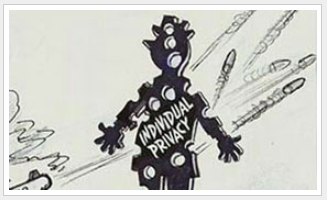 Mon, 05/03/2021
Dates 
This course is fully online and will run May 3 through June 25, 2021. Virtual sessions will be held on the following dates:
May 19, 2021, 7:00pm 
June 9, 2021, 7:00pm 
This 3-credit graduate course, taught by master teacher Kelley Brown with constitutional scholar David Hudson, will look at privacy through the exploration of the 1st, 3rd, 4th, 5th, 9th and 14th Amendments as well as statutory and tort law.
In the 21st century, it's hard to say that privacy even exists in our society. Is Alexa listening to our every word? Is the FBI using facial recognition technology? Can our phone providers track our every move? Can government officials access all this data? Yet, in 1928, Justice Brandeis deemed privacy the most comprehensive and valued right of civilization. This course will explore how the constitutional right to privacy developed; how it is applied; and the threats it faces today—from sexual to virtual.
Neither the original body of the Constitution nor the Bill of Rights explicitly refers to a right to privacy, yet many amendments, like the 3rd, 4th, and 5th, clearly relate. Throughout the 20th and into the 21st century, the Supreme Court has used a penumbra of rights through multiple amendments to establish the right to privacy in order to protect rights like access to birth control and abortion. The courts continually face the challenge of applying a 200+ year old document to constantly changing technology like infrared cameras, GPS devices and cell phones.
As Justice Brandeis asserted in his famous dissent in Olmstead v. United States, lack of privacy can have a chilling effect on the intellectual and spiritual development of individuals. Understanding the right to privacy is more fundamental today than ever before. As new technology develops and cultural shifts occur, we can expect that privacy will continue to be at the forefront of constitutional debate for many years to come.
Audience and Grade Level
Teachers, Grade K-12. The course is designed to be accessible for all educators who wish to become better informed on the topic. 
Credit
Massachusetts teachers receive 67.5 PDPs upon completion of this course. CES will send others a letter of participation for 45 hours. 
Participants may choose instead to take this course for 3 graduate credit in partnership with Westfield State University. To earn PDPs or Graduate Credit, participants must complete all readings, webinars, and assignments. Graduate Credit from Westfield State University costs $325. 
Registration for Graduate Credit takes place in the first week of class, with payment accepted by credit card.
Cost and Registration
The cost of the training is $200 ($180 for CES members).
Register by April 26.
Program made possible with support from the Library of Congress Teaching with Primary Sources program of the Collaborative for Educational Services. 
Photo credit: "Personal Profile"/Herblock. Cartoonist Herbert Block. Published in The Washington Post, January 12, 1977. Link at the Library of Congress: https://www.loc.gov/exhibits/herblock-enduring-outrage/privacysecurity…