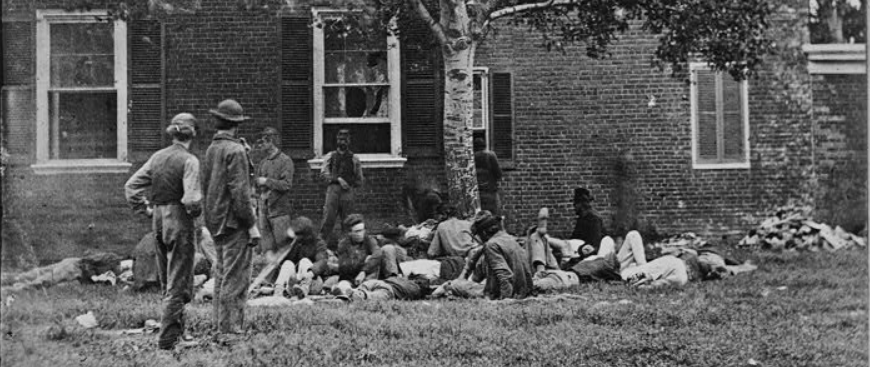 Unit Overview
How Civil War Veterans Transformed Disability
The Unit Overview features a grid of Universal Design for Learning (UDL) strategies and tools employed, standards, and a list of nearly 100 primary sources used in the unit with thumbnails for each, and 50 secondary sources. (Lists of primary sources in lesson plans include hyperlinks to sources as readable text. Lesson plans detail the UDL strategies and tools that they use.) The Unit Overview also lists all secondary sources and background materials for teachers used in the unit.
This unit could stand alone or integrate with study of the Civil War and Reconstruction, especially on impacts on soldiers and on the government. Link to Grades 8-10 Civil War Veterans Unit Overview. 
Online Exhibit: How Civil War Veterans Transformed Disability
Profiles of nurses and disabled veterans, institutional profiles, maps, video recordings, and more materials that support this unit. Link to the exhibit. 
Lessons
Grades 6-12 - Intro Lesson: Introduction to Disability History 
Introductory lesson slides call students to use words about disability with respect. The slides include a definition of disability and photos from the Library of Congress that show tools for access. 
Grades 8-10 - Lesson 1: A Nation Shocked by War
Lesson 1 slides offer a compelling battlefield drawing as a question focus for the Question Formulation Technique. 
Grades 8-10 - Lesson 2: Care for Wounded and Disabled Soldiers
Students discuss the Union's ability to care for injured veterans. Students predict how disability might impact veterans and the nation. Lesson 2 slides provide data and historical context. 
Grades 8-10 - Lesson 3: Stories of Men and Women Who Served
The class analyzes a story of care for a disabled veteran. Pairs or groups analyze one of seven stories and share the main points for discussion. Lesson 3 slides share images and words of veterans. 
Grades 8-10 - Lesson 4: Agents of Care
Students analyze and discuss profiles of ten institutions that served veterans. In the unit assessment, students explain how the experiences of nurses and veterans changed views about the responsibilities of government.  
Grades 8-10 - Lesson 5: Veterans Today
Students examine experiences of disabled veterans through video interviews from the Library of Congress Veterans History Project. Students may research veterans' needs and organize a project to support them.