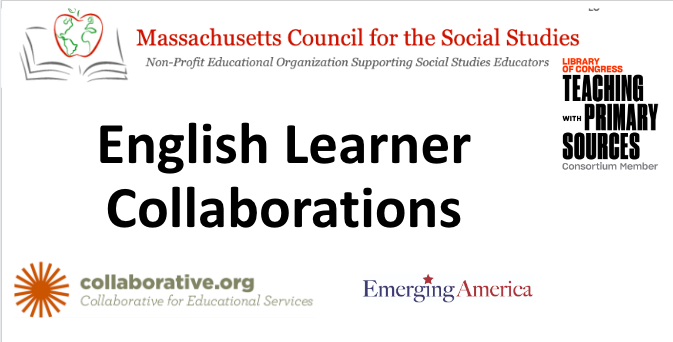 Teaching the Language of Social Studies
Language-aware lessons support all students, especially Multilingual Learners who are still developing in English, access primary-source rich learning
Massachusetts Council for the Social Studies TPS Project
Massachusetts Council for the Social Studies, funded by a grant from the Teaching with Primary Sources (TPS) program of the Library of Congress, has collaborated with the Collaborative for Educational Services and other organizations to increase multilingual learner access to the social studies. Read the project announcement post.
Lessons developed and piloted
The English Learner Collaborations project of the Massachusetts Council for the Social Studies commissioned the development of lessons to illustrate applying English Language Development (ELD) teacher resources to History and Social Studies content.
Annotated with connections to the terms and principles from the WIDA 2020 ELD framework, and with suggestions for additional supports and preparation depending on the needs of the students in the classroom, this lesson provides a plan to meet not only history content objectives but language objectives. 
These lessons are still under development, and are made accessible here to encourage teacher thinking and feedback. Content created and featured in partnership with the TPS program does not indicate an endorsement by the Library of Congress. An editable copy is available upon request by emailing projects@masscouncil.org. 
LANGUAGE-AWARE LESSON EXAMPLE: IS IT EVER OKAY TO BREAK A LAW? (HIGH SCHOOL)
LANGUAGE-AWARE LESSON EXAMPLE: CAN YOU ALWAYS SPEAK YOUR MIND FREELY IN SCHOOLS…
LANGUAGE-AWARE LESSON EXAMPLE: COLONIAL DAILY LIFE (3RD GRADE)