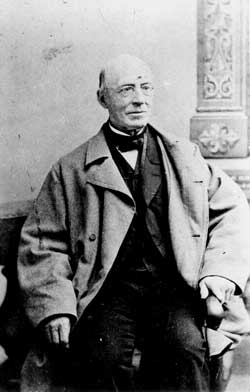 Born in Newburyport, Massachusetts in 1802 to Canadian immigrants, William Lloyd Garrison began his career as a journalist early in life. His family fell on hard times, and after a few odd jobs, Garrison apprenticed with the Newburyport Herald. Soon after this apprenticeship, he and a young printer bought the Free Press. Here, he learned the skills that would make him so famous later on. He joined the abolition movement at the age of 25. He was first associated with the American Colonization Society, but by 1830 he has become disenchanted with their aims. Garrison began co-editing and printing an anti-slavery paper in Baltimore, MD. His co-editor at the Genius of Universal Emancipation, Benjamin Lundy, supported the gradual emancipation of slaves.
As his beliefs shifted and matured, Garrison became an outspoken supporter of the immediate abolition of slavery. He moved back to New England and founded the New England Anti-Slavery Society. A year later on January 1st 1831, he began publishing The Liberator – a virulently anti-slavery newspaper. In his inaugural issue, Garrison wrote, "I am aware that many object to the severity of my language; but is there not cause for severity? I will be as harsh as truth, and as uncompromising as justice. On this subject, I do not wish to think, or to speak, or write, with moderation."
In 1832, he founded the American Anti-Slavery Society. Garrison had a loyal following, but also a large opposition contingent. Not only did Garrison support the immediate abolition of slavery, but he promoted his opinion using moral suasion. He attempted to convince people of the immorality of accepting the existence of the unjust and degrading system of slavery. Furthermore, Garrison aligned his group with the growing women's movement – he believed women should be equal partners in both his anti-slavery movement, and in society. This proved upsetting for a large number of Northerners.
Despite this, Garrison remained a popular figure in radical political activism. He published The Liberator every single week through 1865. He lectured across the Northeast, and was a frequent visitor at the Northampton Association for Education and Industry where he spent several summers. He had married Helen Benson, the sister of George Benson, one of the Association's founders. After the passage of the 15th amendment, Garrison continued to be active in reform movements including suffrage and equal rights for blacks, but no longer published his paper. He began to spend more and more time at home, taking care of his ailing wife who died from pneumonia in 1876. He succumbed to kidney disease in 1879 and is buried in the Forest Hills Cemetery in Jamaica Plain, Massachusetts.
"In His Own Words"
Address to the Colonization Society, July 4, 1829
"To The Public," The Liberator, January 1, 1831
"The Valedictory," The Liberator, December 29, 1865
Links
William Lloyd Garrison, Boston abolitionist, publisher of The Liberator. http://www.pbs.org/wgbh/aia/part4/4p1561.htmlPBS biography with links to additional resources.
Relevant Date(s)
1805 - 1879
Northampton Association Member
No