Pairing Picture Books with Primary Sources: Primary Source Sets from Missouri School Librarian Tom Bober Feature Disability History
Bober's new Primary Source Podcast compliments his KnowledgeQuest blog posts on picture books and primary sources
People familiar with the work of Emerging America will know that our Accessing Inquiry project and clearinghouse of resources offers one of the best available archives of accessible lesson plans that address topics related to people with disabilities across American history. We are delighted to see that Tom Bober (Twitter handle @CaptainLibrary) recently featured two picture books on Disability History topics in his "Picture Books and Primary Sources" KnowledgeQuest column of the Journal of the American Association of School Librarians.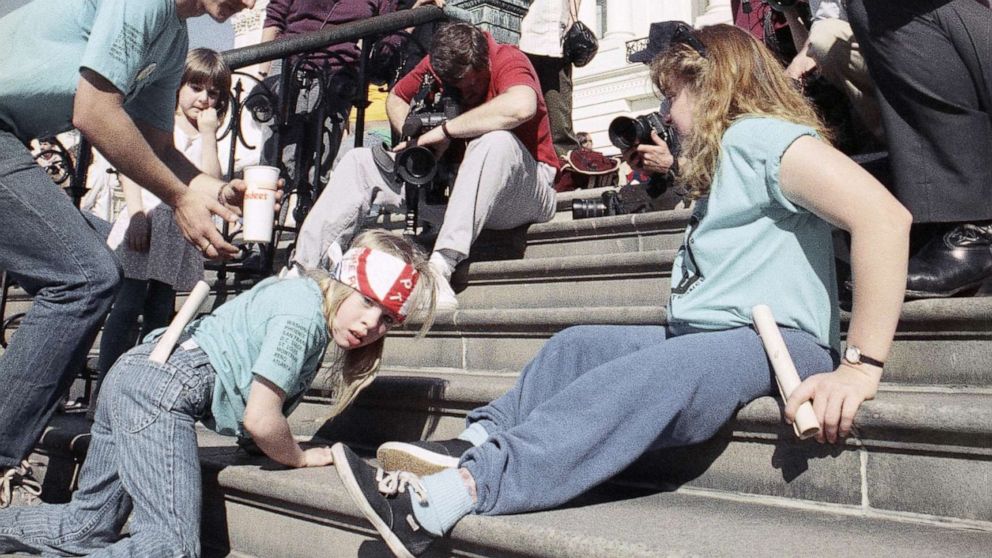 In Picture Books and Primary Sources: All the Way to the Top by Annette Bay Pimentel and Nabi H. Ali, Bober features the story whose title continues, How One Girl's Fight for Americans with Disabilities Changed Everything. The book tells the story of 8-year old Jennifer Keelan-Chaffins, the young civil rights activist who garnered national press attention in the famous "Capitol Crawl" protest that galvanized support in 1990 for passage of the Americans with Disabilities Act. Leadership, fairness, and civic understanding are foundational topics in the elementary grades. The column by Bober highlights primary source video interviews of the activist herself that are particularly accessible to young students. Bober also offers suggestions for using the book as a springboard for the civil rights topic with students in older grades as well, including in his curated primary source set links to the American Disabilities Act as it is preserved on Congress.gov, as well as news stories and additional interviews. 
Bober supports a second Disability History story. Disability activist Ed Roberts, whose victory speech at the San Francisco 504 Sit In (504 as in "504 Plan") is cited in the Massachusetts state history standards, was a polio survivor. The picture book The Polio Pioneer: Dr. Jonas Salk and the Polio Vaccine is an excellent new compliment to the Emerging America primary source set on polio, and Tom Bober has created an additional resource through his interview with author Linda Elovitz Marshall (captured in an episode of The Primary Source Podcast). In the interview, Marshall recalls a childhood where a local swimming hole was dubbed "Polio Pond," and closures to prevent polio contagion were part of summer life. Bober published excerpts of the interview in a KnowledgeQuest column on the book, and accompanied it with a set of newspaper articles that pair with The Polio Pioneer.
A goal of Emerging America has been to deepen resources for teachers of elementary students. We are gratified by the response to the new
History's Mysteries curriculum
developed by Kelley Brown and Laurie Risler with support from Emerging America. Continuing with our goal, we are pleased to highlight these two picture books and the related primary source sets which Tom Bober has selected to bring history and events related to people with disabilities to the elementary classroom.