Each week, History eNews posts links to current highlights in the TPS (Teaching with Primary Sources) Teachers Network. While the ideas and discussion are well worth logging in for, the sharing-friendly Albums tool may transform how you create and share sets of primary sources–with your classroom, with colleagues, even with Facebook and any social media where you share links with others.
The Albums tool lets you easily upload a file or paste in a link to anything – a video, a photograph, a document, and add as many or as few of them as you like. From there, you can edit the text that appears with your resource, and add teaching notes if you like, explaining its purpose, or providing questions you would like students to answer.
The appeal of the Albums tool is that it gives you a teacher-designed format to present the resources, and, in addition to offering the option to export the album as an editable word file to print or share, also generates a unique link that is ideal for sharing electronically with anyone–no TPS Teachers Network login required to view your album, and with no disclosure of your own personal information.
History educators have greeted the Albums tool with enthusiasm. Glen Wiebe's, Using the Album Feature to Make Your Kids Smarter, provides an introduction:
But my new favorite tool on the Network is something even more basic than all of this great conversation. As a member, you're able to create online albums of Library of Congress sources as well as other primary and secondary resources. Once your album is created and online, you are able to share it with students and other teachers. This feature alone is worth the trip.
Think about the power here. You get easy access to all of the Library of Congress goodness. You can upload your own stuff. With all of those resources into one online place that can be quickly shared with your students. Boom. Instant digital text sets.
Wiebe's blog then walks the reader through, with step-by-step screenshots that show how straightforward it is to use the Albums tool. He links an album about the Vietnam War era shooting at Kent State as an example.
See my album, The Development of Precision Manufacturing at the Springfield Armory, https://tpsteachersnetwork.org/album/46501-development-of-precision-manufacturing-at-the-springfield-armory, which I can now share and add to as a source set to support our upcoming summer workshops: Forge of Innovation: The Springfield Armory and the Genesis of American Industry (program and application info here).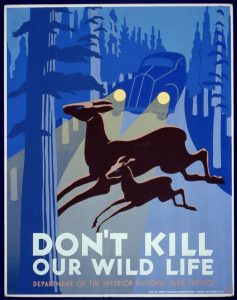 Click image to view animation of https://www.loc.gov/item/92509203/.
A final note: you can also use the Albums tool to teach with Albums created by other teachers. The art illustrating this blog post comes from an album of posters in Library of Congress poster collection that have been enhanced by student animations for a competition (winners will be announced in February, 2019). This is an open album–any member can add to it, and it's a great example of something fun to share with students, whether or not you are offering an animation project in your class.