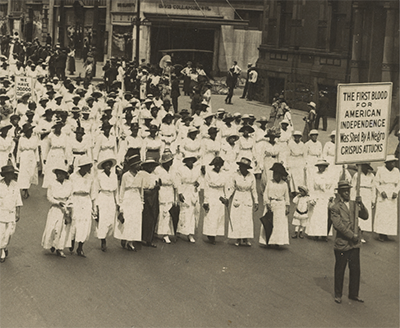 Tue, 09/29/2020
How can teachers engage their students with study of civic life, agency and community? By studying the history of post-Reconstruction American institutions and the struggles for Black equality and justice—even the simple right to live one's life. Learn and develop effective strategies to work with primary sources relating to the Jim Crow Era, The Great Migration and the shift from rural to urban consciousness for Black Americans. This 12-week, fully online course will examine Black communities' resistance–legal, intellectual, educational, social–to Jim Crow and the other forms of oppression during a bleak period in race relations in America.
[Photo credit: Silent protest parade in New York [City] against the East St. Louis riots, 1917. Library of Congress, enlarged detail, https://www.loc.gov/item/95517074/]
Audience
Teachers, Grade K-12. The course is designed and accessible for all educators who wish to become better informed on the topic. Course materials combine literature and non-fiction texts which can be integrated in ELA (English Language Arts), History and other courses in the humanities. Materials can also be creatively applied in math, the sciences, technology, and arts as educators work to provide both windows and mirrors for all students.
Credit
This is a graduate-level 45-hour course. In accordance with standards for graduate-level work, 67.5 PDPs will be awarded to participants upon completion of this training, in addition to outside reading and assignments (as per DESE regulations). Participants may choose instead to take this course for 3 graduate credits in History in partnership with Westfield State University. To earn PDPs or Graduate Credit, participants must complete all assignments. Graduate Credit from Westfield State University costs $325. Registration for Graduate Credit takes place in the first week of class, with payment accepted by credit card.
Dates and Location
This workshop is fully online and runs from September 29 to December 13, 2020
There will be two 1.5-hour webinars as well as outside assignments.
October 22, 2020; 7:00pm - 8:30pm
November 19, 2020, 7:00pm - 8:30pm
Cost and Registration
$200 ($180 for CES member districts). Training cost is reduced thanks to support from the Library of Congress Teaching with Primary Sources program.
Registration Deadline: September 15
Instructor(s)
Instructor: Kelley Brown
Scholar: Amilcar Shabazz