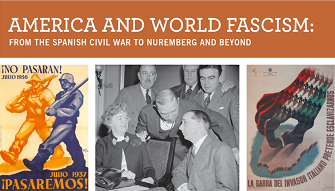 Thu, 04/13/2023
Featuring four live webinar sessions. Participants will also complete readings, online postings, and draft a primary source-based classroom activity. There will be an optional live webinar session in Spanish. 
What is fascism? Where did it come from? How does it impact human rights? What is anti-fascism and how did it arise? How did ideology shape the Spanish Civil War (the setting for the Ernest Hemingway novel, For Whom the Bell Tolls) and WWII? What legacies did those wars pass on in the decades since–in Spain, the U.S., Europe, and globally? 
For a century the world has experienced ideological–and actual–war between fascism and democratic-republicanism, anarchism, communism, and socialism. Three years before World War II, 3,000 idealistic American volunteers fought in the Abraham Lincoln Brigade beside Spain's government against General Franco's fascist rebels. Examine the history of world fascism from its peak in the Spanish Civil War (1936-1939) and WWII in Europe (1939-1945) through the Nuremberg Trials (1945-1946) to today.
Study and discuss the impact of fascist thought and action on human rights through decade of war from 1936-1945, to the Universal Declaration of Human Rights. Consider the post-WWII era, with effects that reach into neo-Nazi, White Supremacist, and other present-day far-right movements in Europe, America, and around the globe that propagate nativism, xenophobia, nationalism, and hate. How does the study of history help us understand these movements? To what extent are we witnessing a return of fascism as it emerged in the first half of the twentieth century? What is different today? And what can we learn from the past eighty years of antifascist struggle? How can teachers address this contested content in today's classrooms?  
Participants will:
Delve into a compelling mix of primary sources: letters, propaganda posters, photographs, film, literature, and including trial documents and laws
Experience hands-on, inquiry-based activities to engage students with this powerful political and philosophical subject
Utilize practical tools to facilitate classroom discussion and student analysis of controversial topics and of bias
Trace links throughout U.S. and World History, Civics and Government, with a particular focus on Spanish language and culture (around the Spanish Civil War and its aftermath)
Create or modify a standards-based classroom lesson or a higher education course syllabus to engage students with this unique and compelling era and its enormous impact. 
Learn powerful strategies to teach content and literacy. 
Develop supports for teaching contested content. 
This workshop is offered in English with material and optional session in Spanish and features resources and free curriculum from: the Library of Congress and the Abraham Lincoln Brigade Archives.
Browse a Syllabus from an earlier offering of the course. 
Instructors
Audience and Grade Level
Social Studies Teachers, and Spanish and other World Language Teachers, Grades 4-12
Dates, Cost, and Registration
April 13 to May 26, 2023. 
Featuring four live webinar sessions with scholars. 
Thursdays: April 20 & 27 and May 4 & 18, 2023 - 4:00pm - 5:15pm*
*There is also an optional live webinar in Spanish on May 18, 5:15pm - 6:15pm.
All sessions will be recorded. 
Training cost reduced thanks to support from the Abraham Lincoln Brigade Archives and the Puffin Foundation. 
The cost of the training is $43 for member districts and $50 for non-member districts.
Credits
22.5 PDPs or 1 graduate credit will be awarded to participants upon completion of this training. Graduate credit is available through Westfield State University at an additional cost of $125. 
Registration Deadline: April 6, 2023