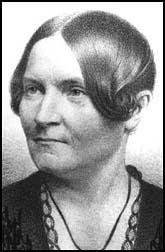 Lydia Maria Child is a lesser-known, but no less important member of the abolitionist movement – a compatriot of both Garrison and Douglass. She was born in 1802, in Medway, Massachusetts. Schooled at home, her career as a writer began almost immediately – she published her first novel in 1824. Hobomokcontained a positive portrayal of an American Indian hero in love with a white woman, and gained Child a place in New England literary circles. In 1826, she capitalized on her success with Juvenile Miscellany, a popular magazine for children. Soon after, she married David Lee Child, a famous activist Boston lawyer. Juvenile Miscellany began to include many politically-themed stories that allowed the Childs to publicize their activist beliefs, particularly Lydia Maria Child's abhorrence over the treatment of American Indians in the U.S.
In 1829, she published The Frugal Housewife, an advice manual and book of receipts for American housewives. Through this publication, she asserted that a housewife needed to be savvy about financial matters, subtly giving women much more personal agency in their own home. The book was a runaway bestseller. Lydia Maria Child was further drawn into her husband's political circle.
Her most famous activist work was a historical and social analysis of the situation of African-Americans in the United States, An Appeal in Favor of That Class of Americans Called Africans (1833). She was elected to the executive committee of the American Anti-Slavery Society in 1839. She and her husband moved to Northampton to grow sugar beets, as a protest against cane sugar production in the West Indies and Brazil which relied on slave labor. They continued their fight against slavery, helping to edit the National Anti-Slavery Standard. Her children's stories continued to focus on these themes of equality and justice. After the emancipation of slavery, she returned to her activist early interest in the plight of American Indians and published An Appeal for the Indians (1868). After her death in 1880, it was this publication for which she would be remembered.
"In Her Own Words"
An Appeal In Favor of That Class of Americans Called Africans (1833)
Read excerpts here or download full book here.
 
Relevant Date(s)
1802 - 1880
Northampton Association Member
No