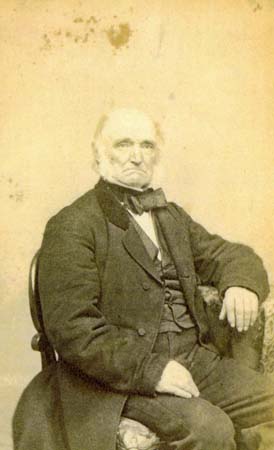 James A. Stetson was born in 1801. He moved to Brooklyn, Connecticut in 1824 from Massachusetts to set up shop as a chaise- and harness-maker. Stetson played the bass viol for the Unitarian church choir, and attracted the attention of Dolly Witter. The couple married in 1827. Stetson's shop had filled a need in Brooklyn when he first arrived, but in 1825 the shop had caught fire and burned to the ground. Although it was back up and running by the time of James' marriage to Dolly, it was never as successful. Stetson's debt increased, and after the financial crisis of 1837, he was forced to find an alternate way to support his family. The Stetsons had been increasingly drawn into the local abolitionist movement; many of their closest friends were leaders in anti-slavery societies.
In 1842, George Benson, a good friend and neighbor, helped found the Northampton Association for Education and Industry. He offered James the job of selling the silk thread from the Northampton Association to merchants in Boston. James accepted; his family moved to the boarding house at the Association. James spent most of the next three years on the road selling silk. In 1847, the Stetsons returned to Brooklyn to continue farming.
Explore the Historical Background section of this site for more on the Stetsons.
"In His Own Words"
Letter, James Stetson to Dolly Stetson, February 20, 1843
Relevant Date(s)
1801 - 1893
Northampton Association Member
Yes