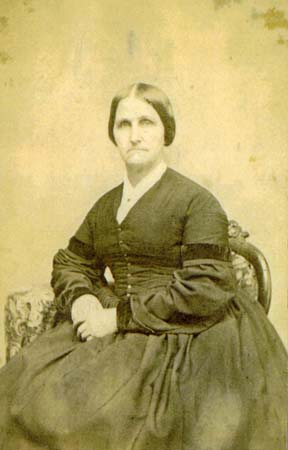 Dolly Witter Stetson was born in Brooklyn, Connecticut in 1807. Her father owned a large farm in Connecticut, and her mother was from a fairly prominent Connecticut family. Dolly attended the Unitarian church, where she met James Stetson. The couple married in 1827. The family fell on hard times soon after, and Dolly's father was often called upon to help support the family.
The Stetsons became involved in the local anti-slavery movement. In the neighboring town, Prudence Crandall had opened a school for black children, despite the virulent opposition of town members. Crandall was forced to close her school, and the case became a central story for abolitionists to rally around. Soon after this, in 1834, Dolly and other local women founded the Brooklyn Anti-Slavery Society; Dolly was chosen to act as president.
In 1843, James persuaded Dolly to move their family to a utopian community in Massachusetts that supported the abolition of slavery. Dolly agreed and they moved to Northampton with their six children. During their stay, Dolly participated in a variety of anti-slavery activities, including attending lectures and conventions. The family decided to leave the community in 1846 and move into the town of Northampton. In 1847, they returned to Brooklyn to re-establish themselves as farmers.
Explore the Historical Background section of this site for more on the Stetsons.
"In Her Own Words"
Letter, Dolly Stetson to James Stetson, April 14, 1845
Relevant Date(s)
1807 - 1889
Northampton Association Member
Yes