EMERGING AMERICA HISTORY eNEWS Vol. 5, Issue 40 for October 31, 2018
NEWS
Civic Engagement Bill likely in final stages.
New Accessible Lesson Plan: Six Goals of the United States Constitution Preamble
"...secure the blessings of liberty to ourselves and our posterity…"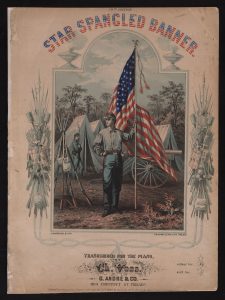 The star spangled banner.
https://www.loc.gov/resource/ihas.100000011.0/?sp=1
Contact rcairn@collaborative.org. HISTORY AND CIVICS EDUCATION COURSES World Geography and History: Designing Grades 6-7. Gain content knowledge in World History and Geography. Unpack, examine, and align courses to new History and Social Science standards. Offered twice. Register.
Nov. 15 and Dec. 6 - CES, Northampton.

Jan. 29 and Feb. 5 - CES, Northampton.
Integrating Civic Engagement Projects Across the Curriculum. How will YOU meet the new Massachusetts requirement to offer civic engagement projects? Learn the basics. Generate and test fly a specific action plan. Taught by national service-learning and civic engagement leader, Rich Cairn. Register.
Jan. 23 and March 13 - CES, Northampton.
NEW RESOURCES AT THE LIBRARY OF CONGRESS
TPS Teachers Network - Teachers with experience working with primary sources are welcome to

join this network

.

Featured this week - YOU MUST LOGIN FIRST FOR THESE LINKS TO WORK:

Feature Discussions:
Library of Congress Teacher Blog http://blogs.loc.gov/teachers/
Finding Triumph and Tragedy in Library of Congress Primary Sources

Primary Sources for Musical Learning: Skin and Bones for Halloween
OTHER RECOMMENDED EVENTS
- Across Massachusetts and the U.S
Bi-weekly Podcasts - Thursdays - JFK Library - JFK and Six Decades of NASA -

Info

Poster House and the Library of Congress Poster Contest -

Info

(with more to follow!)

November 8 through November 18 - Wistariahurst  and ArteSana -

Homespun: One Hundred Years of Textile Arts in Holyoke - "Unique Opportunity!" - Rich Cairn -

Info

Thursday, November 8: 12 - 6:30 p.m.

Friday, November 9: 12 - 4 p.m.

Sunday & Monday, November 11 & 12: 12 - 4 p.m.

Tuesday - Friday November 13 - 16: 12 - 6:30 p.m.

Saturday & Sunday, November 17 & 18: 12 - 4 p.m.

January 19 - Annual Sources Conference - Orlando, Florida -

Registration

June 17 through June 21 - TPS Mars Summer Institute -

Examining Place as a Primary Source: Slavery in Rural and Urban NC -

Registration

July 8 through July 10 - TPS Mars Summer Institute - Engaging Students with Primary Sources -

Registration

July 29 through August 1 - TPS Mars Summer Institute - History and Culture of the Cherokee Tribe -

Registration
Other Resources:
U.S. Diplomacy Center - free materials for educators and students related to teaching with primary sources

New Lessons from Consortium Members:
New Accessible Lesson Plan:
  "...establish justice…" "...promote the general welfare…." "...secure the blessings of liberty to ourselves and our posterity…"   Just in time for election day, here is a simple lesson on the founding goals for the government of the United States, adaptable for all grade levels. By connecting the goals of the federal government to primary source visual representations, this simple civics lesson will help students to remember and think more deeply about the goals set out by the Preamble to the United States Constitution. Download lesson PDF. Browse the Emerging America library of lesson plans and primary sources sets. ********************************** EmergingAmerica.org History eNews welcomes YOUR news & events. Published Wednesdays; deadline Sunday noon. Archived at http://EmergingAmerica.org/blog. - Reply to rcairn@collaborative.org to be removed from this list. Register for CES events. Teacher-created lessons, primary source sets, & assessments at: http://EmergingAmerica.org. Follow Emerging America on Twitter and Facebook.