EMERGING AMERICA HISTORY eNEWS Vol. 5, Issue 39 for October 17, 2018
NEWS
Learn about 8th Grade Civics standards and the We the People Program. Western & Eastern MA options. FREE. Free copy of text, $40 stipend, & free food!

Montrose - Sat., Nov. 3

.

10am - 3pm.

For info contact Kelley Brown:

kbrmbrown@yahoo.com

. Sponsored by James Madison Legacy Project.

JMLP We the People Registration
New Accessible Lesson + Professional Development in Civic Engagement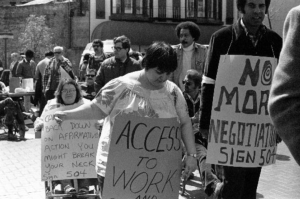 Disability photographer Anthony Tusler will share his experiences photographing Day 1 of the 504 protest as well as his continued efforts to document the disability experience.
https://longmoreinstitute.sfsu.edu/events/2017/07/09/1115-1977-disability-sit-power-imagery-photographer-anthony-tusler
504 Protests photo
Contact rcairn@collaborative.org. HISTORY AND CIVICS EDUCATION COURSES Accessing Inquiry for Students with Disabilities through Primary  Sources. Meets 15-hour Massachusetts requirement for professional development on teaching students with disabilities. Earn 22.5 PDPs or 1 grad credit (extra fee applies) from Westfield State University. Directly supports content and Practice Standards of 2018 Massachusetts History and Social Science Curriculum Framework! Offered twice: Register.
TODAY IS LAST DAY TO REGISTER - Oct. 24 and Nov. 8 - CES, Northampton.

CANCELLED - Nov. 7 and Nov. 14 - Drury High School, North Adams (Free to North Adams teachers.)
World Geography and History: Designing Grades 6-7. Gain content knowledge in World History and Geography. Unpack, examine, and align courses to new History and Social Science standards. Offered twice. Register.
Nov. 15 and Dec. 6 - CES, Northampton.

Jan. 29 and Feb. 5 - CES, Northampton.
Integrating Civic Engagement Projects Across the Curriculum. How will YOU meet the new Massachusetts requirement to offer civic engagement projects? Learn the basics. Generate and test fly a specific action plan. Taught by national service-learning and civic engagement leader, Rich Cairn. Register.
Jan. 23 and March 13 - CES, Northampton.
NEW RESOURCES AT THE LIBRARY OF CONGRESS
TPS Teachers Network - Teachers with experience working with primary sources are welcome to

join this network

.

Featured this week - YOU MUST LOGIN FIRST FOR THESE LINKS TO WORK:

Feature Discussions:
New TPS Civics Resources:
Library of Congress Teacher Blog http://blogs.loc.gov/teachers/
Five Questions with Megan Metcalf, Reference Librarian, Research and Reference Services, Main Reading Room

Mathematics and Primary Sources: The Many Faces of Baseball
OTHER RECOMMENDED EVENTS
- Across Massachusetts and the U.S
Other Resources:
New Accessible Civics Lesson Plan:
This is a great simple civics lesson with three distinctive case studies: marchers with disabilities who took over federal buildings in a historic sit-in in 1977 (504 disability legislation protests), young American volunteers in the Spanish Civil war in 1936, and a 12-year-old mill worker who was inspired to lead a walk-out in 1898. Follow the links for information and access to the lessons. (Search and find dozens more exemplary, accessible, free lessons on a variety of topics at Emerging America Teaching Resources.)   ********************************** EmergingAmerica.org History eNews welcomes YOUR news & events. Published Wednesdays; deadline Sunday noon. Archived at http://EmergingAmerica.org/blog. - Reply to rcairn@collaborative.org to be removed from this list. Register for CES events. Teacher-created lessons, primary source sets, & assessments at: http://EmergingAmerica.org. Follow Emerging America on Twitter and Facebook.