EMERGING AMERICA HISTORY eNEWS Vol. 5, Issue 38 for October 10, 2018
NEWS
18th Annual Student Essay Contest - Oklahoma City National Memorial & Museum -

Register

Massachusetts Department of Elementary and Secondary Education - Seeks History and Social Science Content Support Specialist -

Job Listing

Learn about 8th Grade Civics standards and the We the People Program. Western & Eastern MA options. FREE. Free copy of text, $40 stipend, & free food!

Easthampton - Sat., Oct. 13. Montrose - Sat., Nov. 3

.

10am - 3pm.

For info contact Kelley Brown:

kbrmbrown@yahoo.com

. Sponsored by James Madison Legacy Project.

JMLP We the People Registration
New Accessible Lesson
The Emergence of Special Education
See blog post below.
And Register for Fall Accessing Inquiry for Students with Disabilities through Primary Sources Workshops!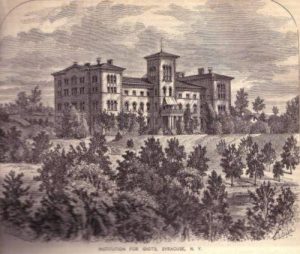 "Institutions For Idiots", October 12, 1870
http://www.disabilitymuseum.org/dhm/lib/detail.html?id=1577
[This is the language used in the original primary source. Address it; don't bury it. - Editor]
Contact rcairn@collaborative.org. HISTORY AND CIVICS EDUCATION COURSES Accessing Inquiry for Students with Disabilities through Primary  Sources. Meets 15-hour Massachusetts requirement for professional development on teaching students with disabilities. Earn 22.5 PDPs or 1 grad credit (extra fee applies) from Westfield State University. Directly supports content and Practice Standards of 2018 Massachusetts History and Social Science Curriculum Framework! Offered twice: Register.
Oct. 24 and Nov. 8 - CES, Northampton.

Nov. 7 and Nov. 14 - Drury High School, North Adams (Free to North Adams teachers.)
Teaching Grades K-5 Civic Engagement and Social Studies. Examine new 2018 Massachusetts History and Social Science Curriculum Framework and develop plans to align your curriculum. Access a wealth of primary and secondary resources. Led by veteran K-5 teacher Laurie Risler. Register.
Oct. 16 and 25 - CES, Northampton.
World Geography and History: Designing Grades 6-7. Gain content knowledge in World History and Geography. Unpack, examine, and align courses to new History and Social Science standards. Offered twice. Register.
Nov. 15 and Dec. 6 - CES, Northampton.

Jan. 29 and Feb. 5 - CES, Northampton.
Integrating Civic Engagement Projects Across the Curriculum. How will YOU meet the new Massachusetts requirement to offer civic engagement projects? Learn the basics. Generate and test fly a specific action plan. Taught by national service-learning and civic engagement leader, Rich Cairn. Register.
Jan. 23 and March 13 - CES, Northampton.
NEW RESOURCES AT THE LIBRARY OF CONGRESS
TPS Teachers Network - Teachers with experience working with primary sources are welcome to

join this network

.

Featured this week - YOU MUST LOGIN FIRST FOR THESE LINKS TO WORK:

Feature Discussions:

New Primary Source Sets at the Library of Congress:
Library of Congress Teacher Blog http://blogs.loc.gov/teachers/
Watch: Upcoming Programs Streamed Live from the Library of Congress

Corridos at the Library of Congress: Spurring Creativity while Studying Hispanic Heritage

Politics on the Screen: Using Moving Images to Win Votes
OTHER RECOMMENDED EVENTS
- Across Massachusetts and the U.S
Other Resources:
Content standards in the 2018 History and Social Studies Framework adopted in Massachusetts now specifically include the 19th century movements to provide supports for people with disabilities, such as the founding of schools for students with cognitive, hearing, or vision disabilities. The new Accessible Lesson Plan added to the Emerging America website this week on the Emergence of Special Education focuses on this history. The lesson's primary source documents provide a means to trace the logic behind expanding education to people who were largely seen in the United States as unable to be educated prior to the 1850s reforms. Students apply what they learn to gain a sense of what education was like for students with disabilities in the 1800s, and describe it in one of several imaginative formats. The lesson is designed to be paired with a companion lesson that allows students to observe teaching in a modern ********************************** EmergingAmerica.org History eNews welcomes YOUR news & events. Published Wednesdays; deadline Sunday noon. Archived at http://EmergingAmerica.org/blog. - Reply to rcairn@collaborative.org to be removed from this list. Register for CES events. Teacher-created lessons, primary source sets, & assessments at: http://EmergingAmerica.org. Follow Emerging America on Twitter and Facebook.