EMERGING AMERICA HISTORY eNEWS Vol. 7, Issue 19 for June 3, 2020
NEWS
A Fixed Star: Teaching the First Amendment 
and Our Most Fundamental Rights
New summer online course taught by Kelley Brown and historian David Hudson. Register.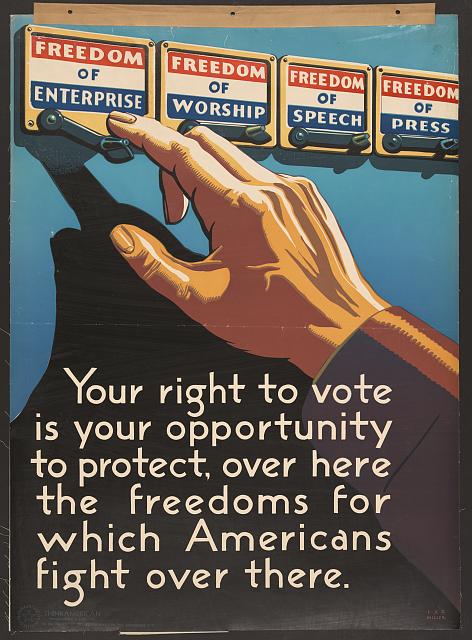 https://www.loc.gov/resource/ppmsca.19168/
This World War II poster links the fight against fascism with free enterprise and the First Amendment to the U.S. Constitution. (c1943). Earn three grad credits in a fascinating exploration of the First Amendment, with focus on effective teaching strategies. Course details.
EVENTS @ EMERGING AMERICA - Info & Registration.
Contact rcairn@collaborative.org.
HISTORY AND CIVICS EDUCATION COURSES
All online through Summer 2020. PDPs / Or optional grad credit available from Westfield State University.
NEW! - A Fixed Star: Teaching the First Amendment and Our Most Fundamental Rights. Taught by Kelley Brown with historian David Hudson. Info & Registration. 3 grad credits in history available. $200. 

June 29 - August 12 - ONLINE 
America and World Fascism: From the Spanish Civil war to Nuremberg and Beyond. Instructors: Peter Carroll, Stanford Univ.; Sebastiaan Faber, Oberlin College; Rich Cairn, Emerging America; Kelley Brown, Easthampton High School. $40. PDPs or (with extra fee) 1 graduate credit. Register. 

June 30 to July 28 - ONLINE
Accessing Inquiry for Students with Disabilities through Primary Sources. Instructors: Rich Cairn & Alison Noyes. Meets state PD requirement, with attention to teachers of History and Social Science and the Humanities. $80. PDPs or (with extra fee). 1 graduate credit. Register. Meets Mass teacher relicense requirement: Link to regulations.
NEW! - Teaching the History's Mysteries K-5 Curriculum. New free K-5 curriculum available online. Info & Register for orientation and professional development led by program creators, Laurie Risler & Kelley Brown. $50. 
NEW! - Teaching Civic Knowledge, Skills, and Dispositions in Today's Classroom: A Teacher Leadership Institute. Emerging America is collaborating again with the Western Mass Writing Project to offer this excellent program!  Earn 4 graduate credits from UMass Amherst. Info & Register. Karen Pleasant and Simon Leutz are co-leading the institute with a writing specialist from WMWP. 

Meets online July 6-17 and bi-weekly September to December.
NEW RESOURCES AT THE LIBRARY OF CONGRESS
TPS Teachers Network - Teachers with interest in working with primary sources are welcome to join this network. 
Featured this week - YOU MUST LOGIN FIRST FOR THESE LINKS TO WORK:
Library of Congress Teacher Blog http://blogs.loc.gov/teachers/
This Week in Office Hours: The American Archives of Public Broadcasting and Math with Primary Sources

Gasoline Alley: Using the Engineering Design Process to Solve a Problem in an Old Comic Panel

Strategies for Planning and Selecting Maps for Exhibits, Displays and Workshops

Swatting the Fly: Conceptualizing Problems and Solutions around the Spread of Disease

This Week in Office Hours: Congress.gov and the Influenza Epidemic in 1918

Free Webinar: Reflecting on Using Primary Sources to Meet the Needs of Diverse Learners – June 3, 2-3 ET - Features Emerging America! 

"This malignancy, it was right at our very doors." Using Manuscripts to Study the Influenza Pandemic of 1918

Next Week's Office Hours: Exploring Using the Occupational Folklife Project with Your Students
NEW RESOURCES FOR TEACHING ONLINE
See Resources for Education During a Pandemic for updated list.  
OTHER EVENTS
Library of Congress Webinars: 
RESOURCES
---
EmergingAmerica.org History eNews welcomes YOUR news & events. 
Published Wednesdays; deadline Sunday noon. Archived at http://EmergingAmerica.org/blog. 
Register for CES events.
Teacher-created lessons, primary source sets, & assessments at: http://EmergingAmerica.org. 
Follow Emerging America on Twitter and Facebook.  
Content created and featured in partnership with the TPS program does not indicate an endorsement by the Library of Congress.