EMERGING AMERICA HISTORY eNEWS Vol. 7, Issue 20 for June 17, 2020
NEWS
COMPLETE THE CIVICS EDUCATION SURVEY - Boston University & CIRCLE at Tufts are evaluating civics education in Massachusetts. Complete 20 minute survey on how you teach civics, and resources and supports. Raffle for $100 Amazon gift card.

Powerful reading list from Discovering Justice, Moakley U.S. Courthouse. http://discoveringjustice.org/working-for-justice/

Emerging America Distance Learning Check-Ins - "Simple online survey tools can provide an avenue for students to communicate how they are doing."

Lesson Plan - Why Vote? - Boston Public Library's Leventhal Map Center - Terrific lesson to promote voting by high school students. 

Play iCivics games and donate points to charity through Impact Challenge: https://www.icivics.org/impact. 

Massachusetts Council for the Social Studies (Mass Council) postponed fall NERC. 
Join the Orientation for History's Mysteries in July!  
Teach This New Free Elementary K-5 Curriculum In-Person or Remotely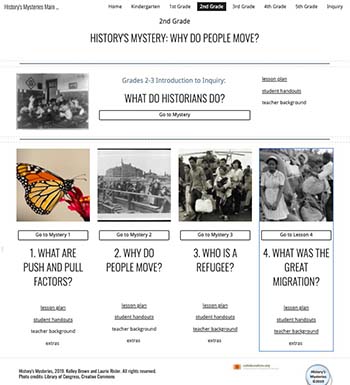 More than 60 teachers piloted Emerging America piloted History's Mysteries in spring 2020, both in person and remotely. Curriculum details. 
EVENTS @ EMERGING AMERICA - Info & Registration.  Contact rcairn@collaborative.org.
HISTORY AND CIVICS EDUCATION COURSES
Teaching the History's Mysteries K-5 Curriculum. New K-5 curriculum available online in July. Info & Register for orientation and professional development led by program creators, Laurie Risler & Kelley Brown. $50. Earn 10 PDPs by teaching a unit in fall and participating in Nov. 12 reflection webinar.
Teaching Civic Knowledge, Skills, and Dispositions in Today's Classroom: A Teacher Leadership Institute - Emerging America is collaborating again with the Western Mass Writing Project to offer this excellent program!  Earn 4 graduate credits from UMass Amherst. Info & Register. Karen Pleasant and Simon Leutz are co-leading the institute with a writing specialist from WMWP. 

Meets online July 6-17 and bi-weekly September to December.
NEW RESOURCES AT THE LIBRARY OF CONGRESS
TPS Teachers Network - Teachers with interest in working with primary sources are welcome to join this network. 
Featured this week - YOU MUST LOGIN FIRST FOR THESE LINKS TO WORK:
Library of Congress Teacher Blog http://blogs.loc.gov/teachers/
Using Primary Source Sets in Remote Learning Environments
Online Education Events June 9th and 10th: A Look Back at a Year of Adventure and Finding Resources on LOC.gov
Jason Reynolds: GRAB THE MIC June Newsletter
K-12 Music Education Resource Guide Now Available
A Grateful Milestone For Us: Our 1000th Post
A Chance to Be Curious and Practice Wonder: My Year at the Library of Congress
Online Education Events June 16th and 17th: 20th Century Political Cartoons and Primary Sources and Picture Books
NEW RESOURCES FOR TEACHING ONLINE
See Resources for Education During a Pandemic for complete list.
Historic Northampton - HISTORY AT HOME 

The Gilder Lehrman Institute of American History:
OTHER EVENTS
RESOURCES TO ADDRESS 2020 CIVIL RIGHTS 
---
EmergingAmerica.org History eNews welcomes YOUR news & events. 
Published Wednesdays; deadline Sunday noon. Archived at http://EmergingAmerica.org/blog. 
Register for CES events.
Teacher-created lessons, primary source sets, & assessments at: http://EmergingAmerica.org. 
Follow Emerging America on Twitter and Facebook.  
Content created and featured in partnership with the TPS program does not indicate an endorsement by the Library of Congress.