EMERGING AMERICA HISTORY eNEWS Vol. 5, Issue 3 for January 17, 2018
NEWS
Jan. 23 - Mass Board of Ed vote to release DRAFT of Mass Social Studies Frameworks. Survey will be open January 23 to April 2. Dates soon for discussion forums statewide.

March 5 - 4-6pm - CES, Northampton. Discussion forum on draft Social Studies Frameworks. Western Mass Social Studies PLC. Registration through ESE open soon.

New! Emerging America Accessing Inquiry for Students with Disabilities workshop in Poughkeepsie, New York - March 12 and 22.

Register

.

Position still open: Emerging America seeks half-time digital materials coordinator!

Job Posting

.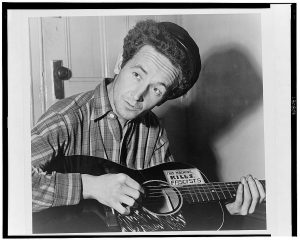 Teaching about Fascism in 2018
[Woody Guthrie, half-length portrait, seated, facing front, playing a guitar that has a sticker attached reading: This Machine Kills Fascists] / World Telegram photo by Al Aumuller. (1943).
Contact rcairn@collaborative.org. Grad credit in history available – all courses.
(Filled)

February 15 to March 29 with final follow up June 7 - ONLINE - Emerging America: Immigration Issues for Diverse Learners.

March 23 & 24 - 8:45am - 3:45pm - Plymouth North High School - America and World Fascism: From the Spanish Civil War to Nuremberg and Beyond ($35).

Registration

.  

Accessing Inquiry for Students with Disabilities through Primary Sources. Meets Mass requirement for 15 hours of PD on teaching diverse learners.
NEW RESOURCES AT THE LIBRARY OF CONGRESS
TPS Teachers Network - Teachers with experience working with primary sources are welcome to

join this network

.
Featured this week - YOU MUST LOG-IN FIRST FOR THESE LINKS TO WORK:
Library of Congress Teacher Blog http://blogs.loc.gov/teachers/
Helping Students Distinguish Fact from Fiction

Mathematics and Primary Sources: The Evolving Postal System
OTHER RECOMMENDED EVENTS - Across Massachusetts and the U.S
Other Resources:
********************************** EmergingAmerica.org History eNews welcomes YOUR news & events. Published most Wednesdays; deadline Monday noon. Archived at http://EmergingAmerica.org/blog. - Reply to rcairn@collaborative.org to be removed from this list. Register for CES events. Teacher-created lessons, primary source sets, & assessments at: http://EmergingAmerica.org. Follow Emerging America on Twitter and Facebook.