NEWS
Are you reaching out to elementary colleagues?
Course for Elementary Social Studies Teachers:
Strengthening History and Social Science
April 23 & May 21 – Register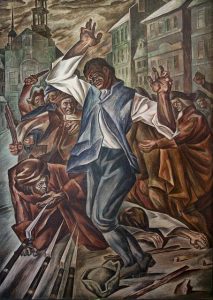 "Crispus Attucks," by Herschel Levit, mural at the Recorder of Deeds Building. (1943).
Original martyr of the Revolution. Photo by Highsmith.
Contact rcairn@collaborative.org.
HISTORY AND CIVICS EDUCATION COURSES
DEADLINE EXTENDED TO MARCH 7: Forge of Innovation: The Springfield Armory and the Genesis of American Industry, NEH Landmarks of American History and Culture Workshops for Teachers. Massachusetts teachers address new content and practice standards. Receive $1,200 stipend for travel and living expenses. Information and Registration
July 7-12 – Springfield, Sturbridge, Greenfield, Northampton, and Holyoke.
July 21-26 – Springfield, Sturbridge, Greenfield, Northampton, and Holyoke.
Accessing Inquiry for Students with Disabilities through Primary Sources. Instructors Rich Cairn & Alison Noyes. Meets Massachusetts 15-hour requirement for training in strategies for effective schooling for students with disabilities and the instruction of students with diverse learning styles. Grad credit available. Register.
March 27 to May 7 – FULLY ONLINE!
World Geography and History: Designing Grades 6-7. Dive into the new standards. Grad Credit available. Register.
March 5 and April 4 – Hudson.
Teaching Grades K-5 Civic Engagement and Social Studies. Instructor Laurie Risler. Grad credit available. Register.
April 23 and May 21 – Northampton.
New: America Transformed: Teaching Westward Expansion Using Primary Sources. Instructors Michelle LeBlanc, Rich Cairn, and historian Heather Cox RIchardson
April 3 & April 10, 2019, 9am-3pm – Boston Public Library, Leventhal Map Center. Register with Leventhal.
NEW RESOURCES AT THE LIBRARY OF CONGRESS
TPS Teachers Network – Teachers with experience working with primary sources are welcome to join this network.

Featured this week – YOU MUST LOGIN FIRST FOR THESE LINKS TO WORK:
Feature Discussions:
Library of Congress Teacher Blog http://blogs.loc.gov/teachers/
Five Questions with Gretel von Bargen, 2018 Library of Congress Summer Teacher Institute Participant
Primary Sources for Musical Learning: Squirrel Hunting, Singing, and Thinking in Elementary School
OTHER RECOMMENDED EVENTS – Across Massachusetts and the U.S.
Other Resources:
Featured Resource: Grade 5 Performance Assessment
The Bloody Massacre–Or Was It?
Explore the causes of the Revolution with primary sources from multiple perspectives in this exemplary assessment.
http://emergingamerica.org/resource/featured-source-performance-assessment-5th-grade-boston-massacre/
**********************************
EmergingAmerica.org History eNews welcomes YOUR news & events.
Published Wednesdays; deadline Sunday noon. Archived at http://EmergingAmerica.org/blog.
– Reply to rcairn@collaborative.org to be removed from this list.
Register for CES events.
Teacher-created lessons, primary source sets, & assessments at: http://EmergingAmerica.org.