NEWS
December 6 - 4-6:30pm - Smith College Museum of Art seeks members for Teacher Advisory Group (TAG) -

Info and RSVP
Featured Primary Sources Sets from Emerging America:
Pearl Harbor and the U.S. Reaction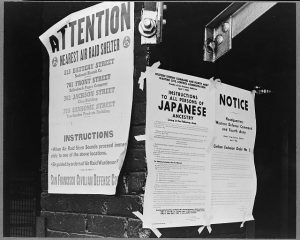 Posted at First and Front streets, directing removal by April 7 of persons of Japanese ancestry, from the first San Francisco section to be affected by evacuationhttp://loc.gov/pictures/resource/cph.3a35053/
Contact rcairn@collaborative.org. HISTORY AND CIVICS EDUCATION COURSES World Geography and History: Designing Grades 6-7. Gain content knowledge in World Geography and Ancient History. Unpack, examine, and align courses to new History and Social Science standards. Two-day course. Grad credit available. Register.
Jan. 29 and Feb. 5 - CES, Northampton.
Integrating Civic Engagement Projects Across the Curriculum. How will YOU meet the new Massachusetts requirement to offer civic engagement projects? Learn the basics. Generate and test fly a specific action plan. Taught by national service-learning and civic engagement leader, Rich Cairn. Two-day course. Grad credit available. Register.
Jan. 23 and March 13 - CES, Northampton.
NEW RESOURCES AT THE LIBRARY OF CONGRESS
TPS Teachers Network - Teachers with experience working with primary sources are welcome to

join this network

.

Featured this week - YOU MUST LOGIN FIRST FOR THESE LINKS TO WORK:

Feature Discussions:
Library of Congress Teacher Blog http://blogs.loc.gov/teachers/
Encouraging Student Examination of Persuasive Strategies Used in an Anti-Lynching Report

Library of Congress staff at NCSS in Chicago! Links to resources from the National Council for the Social Studies conference last week.
OTHER RECOMMENDED EVENTS
- Across Massachusetts and the U.S.
December 6 - 7-7:45 - Webinar - FDR and the Four Freedoms - Constitutional Rights Foundation.

Register

.

December 13 - February 24 - Museum of Fine Arts: Boston - Ansel Adams in Our Time (Exhibition) -

Information
Featured Emerging America Primary Source Resources:
Pearl Harbor and the US Reaction: Emerging America has two teacher-assembled sets of primary sources that offer rich detail and related classroom activities to engage student inquiry about Japan's attack on Pearl Harbor in Hawaii on December 7 and the events that followed. Library of Congress video interviews with eyewitnesses, photographs (including photos by Ansel Adams), maps, blueprints, and other documents provide many means to help students find connections to events. Japan's Attack on Pearl Harbor is introduced by a detailed timeline of the events of the attack, an activity in which students take the role of reporters, and a Documents Based Question (DBQ). The sources include video interviews with veteran and nurse eyewitnesses with thumbnails summaries, the news broadcast type script, maps, blueprints, photos, and other documentation. Japanese Internment: U.S. Reacts to Attack on Pearl Harbor focuses on the experiences and reactions of Americans after the attack. ********************************** EmergingAmerica.org History eNews welcomes YOUR news & events. Published Wednesdays; deadline Sunday noon. Archived at http://EmergingAmerica.org/blog. - Reply to rcairn@collaborative.org to be removed from this list. Register for CES events. Teacher-created lessons, primary source sets, & assessments at: http://EmergingAmerica.org. Follow Emerging America on Twitter and Facebook.