EMERGING AMERICA HISTORY eNEWS Vol. 4, Issue 43 for December 13, 2017
NEWS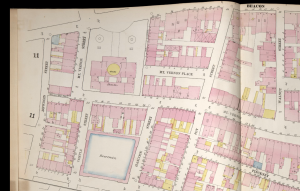 Library of Congress Maps and Local History
Massachusetts State House and selection from Beacon Hill, Boston. (1867).
Sanborn Fire Maps provide phenomenal detail in communities across the country - 1867 forward.
Contact rcairn@collaborative.org. Registration open!
January 27 - Technology in Education conference. Northampton. - Workshop on Library of Congress-sponsored online civics games.

Register.
Grad credit in history available – all courses.
February 15 to March 29 with final follow up June 7 - ONLINE - Emerging America: Immigration Issues for Diverse Learners ($35)

Explore new approaches and a wealth of online resources for teaching this ever exciting and engaging topic. Engage diverse learners. Develop your own lesson featuring research and inquiry-based strategies on any period in U.S. History from 1800 to 2018. Grades 3-12.

Registration

.

March 23 & 24 - 8:45am - 3:45pm - Boston - America and World Fascism: From the Spanish Civil War to Nuremberg and Beyond ($35)

March 23 & March 31 - 9am - Boston Public Library Leventhal Map Center

Accessing Inquiry for Students with Disabilities through Primary Sources. Meets Mass requirement for 15 hours of PD on teaching diverse learners.

April 24 & May 15 - 8am - 4pm - Northampton ($72.50)

Registration

. Hands-on workshop to learn and practice skills for teaching diverse learners.

Dates TBD - Boston ($72.50 - free to Boston Public Schools teachers)
NEW RESOURCES AT THE LIBRARY OF CONGRESS
TPS Teachers Network - Teachers with experience working with primary sources are welcome to

join this network

.
Featured this week - YOU MUST LOG-IN FIRST FOR THESE LINKS TO WORK:
Other Resources from the Library of Congress:
1869 Peace Jubilee in Boston. Why biases of sources matters.

Was Hammurabi Pro-Temperance? Critical reading and historical context.

Mathematics and Primary Sources: Measurement, History, and the English Language.

Learning Beyond the Original Purpose with Sanborn Fire Insurance Maps. Detailed local maps from 1867 forward.
OTHER RECOMMENDED EVENTS - Across Massachusetts and the U.S.
Other Resources:
********************************** EmergingAmerica.org History eNews welcomes YOUR news & events. Published most Wednesdays; deadline Monday noon. Archived at http://EmergingAmerica.org/blog. - Reply to rcairn@collaborative.org to be removed from this list. Register for CES events. Teacher-created lessons, primary source sets, & assessments at: http://EmergingAmerica.org. Follow Emerging America on Twitter and Facebook.