NEWS
Edward M. Kennedy Institute - Americans speak on the United States Senate -

Poll

76% of voters say that most senators are out of touch with the people in their states

Overall, 28% of voters say that they are satisfied with the U.S. Senate and 72% are dissatisfied, including 34% who are very dissatisfied.
CIVICS Bill PASSES!
Read the language of the bill. A watershed moment in Massachusetts history. Civic engagements gets a major boost. Now the hard work to implement begins!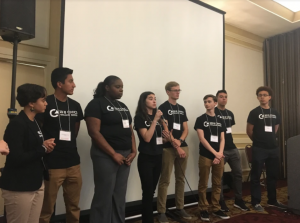 Youth Facilitators Speak Out at Civic Education Institute July 24-26
http://civics.collaborative.org
Watch for several courses from Emerging America this fall.  
Contact rcairn@collaborative.org. HISTORY AND CIVICS EDUCATION COURSES: Fall schedule available soon.
July 30-31 - Boston Public Library - Immigration and Maps -

Register.

(Waiting list only.)
NEW RESOURCES AT THE LIBRARY OF CONGRESS
TPS Teachers Network - Teachers with experience working with primary sources are welcome to

join this network

.

Featured this week - YOU MUST LOG-IN FIRST FOR THESE LINKS TO WORK:

Feature Discussions:
Library of Congress Teacher Blog http://blogs.loc.gov/teachers/
Five Questions with Robin Butterhof, Digital Conversion Specialist, Newspaper and Current Periodical Reading Room
Other Resources:
********************************** EmergingAmerica.org History eNews welcomes YOUR news & events. Published Wednesdays; deadline Sunday noon. Archived at http://EmergingAmerica.org/blog. - Reply to rcairn@collaborative.org to be removed from this list. Register for CES events. Teacher-created lessons, primary source sets, & assessments at: http://EmergingAmerica.org. Follow Emerging America on Twitter and Facebook.