NEWS
Technological Innovation and People with Disabilities
How do we tell stories about technology that are about people not gadgets?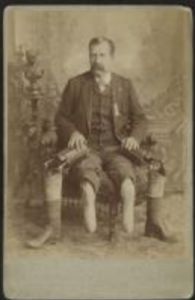 [John W. January, veteran of Co. B, 14th Illinois Cavalry Regiment, with prosthetic legs] / Photographed by Bowman, Ottawa, Ills. [c. 1894].
https://www.loc.gov/item/2016652279/
Reporting from the National Council for History Education institute on Technological Innovation and Patents at the U.S. Patent and Trademark Office in Alexandria, Virginia. https://www.nche.net/tiahcolloquia
Contact rcairn@collaborative.org.
HISTORY AND CIVICS EDUCATION COURSES
Summer courses coming soon.
Teaching Grades K-5 Civic Engagement and Social Studies. Instructor Laurie Risler. Grad credit available. Register.
April 23 and May 21 – Northampton.
NEW RESOURCES AT THE LIBRARY OF CONGRESS
TPS Teachers Network – Teachers with experience working with primary sources are welcome to join this network.

Featured this week – YOU MUST LOGIN FIRST FOR THESE LINKS TO WORK:
Feature Discussions:
Library of Congress Teacher Blog http://blogs.loc.gov/teachers/
Singing for Women's Suffrage: A New Digital Collection from the Library of Congress
Singing for Political Change: Celebrating Music In Our Schools Month with Library of Congress Primary Sources
Library of Congress News:
Symposium on Diversity in Children's Literature – Recording
Library Acquires Trove of Letters from Georgia O'Keeffe and Alfred Stieglitz – Information
Women's Suffrage in Sheet Music – Now Available Online – Information
OTHER RECOMMENDED EVENTS – Across Massachusetts and the U.S.
April 9 – 12:30-1:45pm – Holyoke Community College's Enduring Racism Speaker Series – Language, Status & Stigma: The Paradox of Bilingualism
April 9 – 7pm – NCSS: An Issue-Centered Approach to Classroom Debate & Deliberation – Information
April 10 – 7pm – Historic Northampton: Tracking Down the Stories of Child Laborers – Information
April 11 – 6-7:30pm – John F. Kennedy Presidential Library and Museum: Robert Caro – Writing History – Information and Registration
April 16 – 6-7:30pm – John F. Kennedy Presidential Library and Museum – A Conversation with His Excellency Juan Manuel Santos Calderon – Information and Registration
April 18 – 4pm – Umass History Department: "The Torture Machine: Racism and Police Violence in Chicago," A Book Talk with Civil Rights Attorney Flint Taylor – Information
April 27 – 9am – 4:30pm – Historic Deerfield: Federal Cabinetmaking – Kneeland and Adams of Hartford – Information and Registration
May 7 – 2019 Massachusetts Conference on Volunteerism – Information and Registration
Summer 2019:
**********************************
EmergingAmerica.org History eNews welcomes YOUR news & events.
Published Wednesdays; deadline Sunday noon. Archived at http://EmergingAmerica.org/blog.
– Reply to rcairn@collaborative.org to be removed from this list.
Register for CES events.
Teacher-created lessons, primary source sets, & assessments at: http://EmergingAmerica.org.
Follow Emerging America on Twitter and Facebook.  
Content created and featured in partnership with the TPS program does not indicate an endorsement by the Library of Congress.