NEWS
Understanding and Teaching the US Constitution in the 21st Century
Emerging America Summer Online Course with Kelley Brown
New 8th Grade Civics Teachers and all others welcome!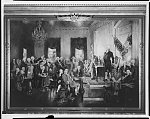 Scene at signing of the Constitution of the United States.
George Washington presiding. Sept. 17, 1787. Howard Chandler Christy. (1940).
https://www.loc.gov/item/98501334/
Full color available at: https://www.aoc.gov/art/other-paintings-and-murals/signing-constitution
Contact rcairn@collaborative.org.
HISTORY AND CIVICS EDUCATION COURSES
PDPs / Or optional grad credit available from Westfield State University.
Teaching Grades K-5 Civic Engagement and Social Studies. Instructor Laurie Risler. Grad credit available. Register.
April 23 and May 21 – Northampton.
NEW SESSION: July 8-9 – South Hadley Public Library.
Understanding and Teaching the U.S. Constitution in the 21st Century. Instructor Kelley Brown.
NEW SESSION: July 1 to Aug. 16 – Fully Online.
Accessing Inquiry for Students with Disabilities through Primary Sources. Instructors Alison Noyes and Laurie Risler. Meets Massachusetts 15-hour requirement for professional development on strategies to teach students with disabilities and diverse learners.
NEW SESSION: July 29-30 – South Hadley Public Library.
NEW RESOURCES AT THE LIBRARY OF CONGRESS
TPS Teachers Network – Teachers with experience working with primary sources are welcome to join this network.

Featured this week – YOU MUST LOGIN FIRST FOR THESE LINKS TO WORK:
Feature Discussions:
Library of Congress Teacher Blog http://blogs.loc.gov/teachers/
Starting Conversations with Students about Personal Spending, Investing, and Stewardship with Historical Receipts
Science Teachers – Meet Us in St. Louis (At the NSTA Conference)
Primary Sources for Musical Learning: Analyzing Primary Sources through Movement
For National Poetry Month Stop by the Teachers Corner From the Catbird's Seat
The Evolution of Walt Whitman's "O Captain! My Captain!"
OTHER RECOMMENDED EVENTS – Across Massachusetts and the U.S.
April 27 – 9am – 4:30pm – Historic Deerfield: Federal Cabinetmaking – Kneeland and Adams of Hartford – Information and Registration
April 30 – 3:30pm – Teaching Tolerance Webinar: Teaching Asian American and Pacific Islander Heritage – Register
April 30 – 9:30-11:30am – Franklin County Law Day – Greenfield Community College
May 1 – 9-11am – Hampshire County Law Day – Hampshire County Courthouse. https://northwesternda.org/law-day
May 1 – 7pm – Pioneer Valley History Network: "At Sword's Point: A Labor History of Franklin County" – Belding Memorial Library, Ashfield, MA
May 6 – 7pm – Pioneer Valley History Network: "At Sword's Point: A Labor History of Franklin County" – Forbes Library, Northampton, MA
May 9 – 8:30am-3:15pm – We the People: Stories of Strength and Struggle in Challenging Times – A Conference for Teachers Grade 3-8 and School Librarians – Information and Registration  
June 8 – The David Ruggles Center will introduce new curriculum at its Teachers Institute 2019 held on June 8 in Florence. Learn more at davidrugglescenter.org
Summer 2019:
History Camp Pioneer Valley – Holyoke Community College – Information
MCSS – Unrepresented Voices of the American Revolution – Application information available in late April

Online Course – Starts July 10
Face-to-Face Course – August 12-16

UMass Boston – Boston Through a Wider Lense – August 5-9 – Information and Application
The Dublin Seminar for New England Folklife (sponsored by Historic Deerfield) – Entertainments at Taverns and Long Rooms in New England (1700-1900) – Information and Application
Resources:
**********************************
EmergingAmerica.org History eNews welcomes YOUR news & events.
Published Wednesdays; deadline Sunday noon. Archived at http://EmergingAmerica.org/blog.
– Reply to rcairn@collaborative.org to be removed from this list.
Register for CES events.
Teacher-created lessons, primary source sets, & assessments at: http://EmergingAmerica.org.
Follow Emerging America on Twitter and Facebook.  
Content created and featured in partnership with the TPS program does not indicate an endorsement by the Library of Congress.