NEWS
Baseball Home Opener and William Hoy
William Hoy, Deaf Major League Baseball Player
https://www.thinkport.org/tps/inquiry-kits.html?unit=07&topic=03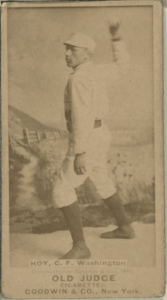 This baseball card shows William Hoy ready to throw a ball while playing for the Washington Statesmen.
ThinkPort.org – This and dozens more FREE, well-resourced Inquiry Kits from Maryland Humanities and Maryland Public Television. Sophisticated text sets and activities on topics from Nebuchadnezzar to the September 11, 2001. Supported by the Library of Congress Teaching with Primary Sources Program.
Contact rcairn@collaborative.org.
HISTORY AND CIVICS EDUCATION COURSES
PDPs / Or optional grad credit available from Westfield State University.
Teaching Grades K-5 Civic Engagement and Social Studies. Instructor Laurie Risler. Grad credit available. Register.
April 23 and May 21 – Northampton.
NEW SESSION: July 8-9 – South Hadley Public Library.
Understanding and Teaching the U.S. Constitution in the 21st Century. Instructor Kelley Brown.
NEW SESSION: July 1 to Aug. 16 – Fully Online.
Accessing Inquiry for Students with Disabilities through Primary Sources. Instructors Alison Noyes and Laurie Risler. Meets Massachusetts 15-hour requirement for professional development on strategies to teach students with disabilities and diverse learners.
NEW SESSION: July 29-30 – South Hadley Public Library.
NEW RESOURCES AT THE LIBRARY OF CONGRESS
TPS Teachers Network – Teachers with experience working with primary sources are welcome to join this network.

Featured this week – YOU MUST LOGIN FIRST FOR THESE LINKS TO WORK:
Feature Discussions:
Library of Congress Teacher Blog http://blogs.loc.gov/teachers/
New July Workshop Added on Women's Suffrage – Apply Now!
Student Filmmakers Inspired by the Omar Ibn Said Collection
Come Help Us Develop Teaching Materials from the Historic American Engineering Record!
Primary Sources for Music Education: Analyzing the Musical Perspectives of Marian Anderson and Harry T. Burleigh in Deep River
OTHER RECOMMENDED EVENTS – Across Massachusetts and the U.S.
Summer 2019:
UC Berkeley History and Social Science Project:
PACE University Summer 2019 Courses: Information and Registration

American Indian History
Slavery in America
Democracy in the Early Republic
Social Change in the Civil War Era

TPS- Mars University:
Maryland Humanities Summer Teacher Institutes

July 15-19 – Lessons Learned
July 22-26 – Primary Sources and Project Based
Resources:
**********************************
EmergingAmerica.org History eNews welcomes YOUR news & events.
Published Wednesdays; deadline Sunday noon. Archived at http://EmergingAmerica.org/blog.
– Reply to rcairn@collaborative.org to be removed from this list.
Register for CES events.
Teacher-created lessons, primary source sets, & assessments at: http://EmergingAmerica.org.
Follow Emerging America on Twitter and Facebook.  
Content created and featured in partnership with the TPS program does not indicate an endorsement by the Library of Congress.