NEWS
New Blog Post from Emerging America:
Lesson Plans that Address New Mass History Standards on
People with Disabilities: Modeling Access for Students with Disabilities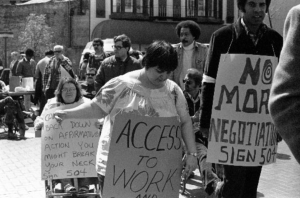 Event Date: Sunday, July 09, 2017
Location: San Francisco Public Main Library 100 Larkin St., Learning Studio, 5th Floor
The Paul K. Longmore Institute on Disability invites you to discover a remarkable, overlooked moment in U.S. history when people with disabilities occupied a government building to demand their rights. Known as the "Section 504 Sit-In," the protest profoundly changed the lives of people with and without disabilities, and paved the way for the Americans with Disabilities Act (ADA) in 1990.
Photo: Anthony Tusler, 1977 San Francisco. Paul K. Longmore Institute on Disability
[Used by Emerging America with permission of the photographer.]
Contact rcairn@collaborative.org. HISTORY AND CIVICS EDUCATION COURSES Integrating Civic Engagement Projects Across the Curriculum. How will YOU meet the new Massachusetts requirement to offer civic engagement projects? Learn the basics. Generate and test fly a specific action plan. Taught by national service-learning and civic engagement leader, Rich Cairn. Two-day course. Grad credit available. Register.
Jan. 23 and March 13 - CES, Northampton.
REGISTRATION FULL - World Geography and History: Designing Grades 6-7. Gain content knowledge in World Geography and Ancient History. Unpack, examine, and align courses to new History and Social Science standards. Two-day course. Grad credit available. Register.
Jan. 29 and Feb. 5 - CES, Northampton.
NEWLY OPEN FOR REGISTRATION - Accessing Inquiry for Students with Disabilities through Primary Sources. Instructors Rich Cairn & Alison Noyes. Meets 15-hour Massachusetts requirement for high quality professional development on teaching students with disabilities and diverse learners. Grad credit available. Register.
Feb. 27 and March 6 - Northampton.
NEWLY OPEN FOR REGISTRATION - Teaching Grades K-5 Civic Engagement and Social Studies. Instructor Laurie Risler. Grad credit available. Register.
April 23 and May 21 - Northampton.
NEW RESOURCES AT THE LIBRARY OF CONGRESS
TPS Teachers Network - Teachers with experience working with primary sources are welcome to

join this network

.

Featured this week - YOU MUST LOGIN FIRST FOR THESE LINKS TO WORK:

Feature Discussions:
This activity includes link to EmergingAmerica.org unit, First Contact: Columbus and the Taino. The post now includes actual student work! - Editor
Library of Congress Teacher Blog http://blogs.loc.gov/teachers/
Using the 5 Es to Explore an Epitome of the Universe

From Mechanics to Makers: Making and Sharing
Library of Congress Resources:
OTHER RECOMMENDED EVENTS
- Across Massachusetts and the U.S.
Summer 2019 Events:
Other Resources:
New Emerging America Blog:
Ten Lesson Plans that Address New Massachusetts Standards on History of People with Disabilities http://emergingamerica.org/accessing-inquiry/#disabilityhistory. Engaging ALL students in history and social studies education means not only using inclusive practices, but not overlooking the impact of historical changes and events on people with disabilities, and the impact people with disabilities have had on history. Ten lessons on History of People with Disabilities that address the new Massachusetts standards for History and Social Science are currently available for download from the Emerging America website, and a summary chart that shows how each lesson maps to the standards is provided here. 750,000 students today have 504 plans that guide teachers in meeting their needs. (2015 data). The 1977 protests in San Francisco, in which people with disabilities of all kinds marched and took over a federal building to press the urgency of acting on legislation to give rights to workplace and classroom accommodations, is a historic event with personal relevance to students today. The 1977 protest is featured in a civic engagement lesson plan, and the materials provided can be adapted to meet not only Civics content standards at the elementary and 8th grade levels, but standards related to the history of civil rights in the United States. Barriers and difficulties experienced by veterans of US wars were a prime driver of changes in the role of government, and is a central part of the study of how the relationship between citizens, the states, and the federal government changed over time. To search the Emerging America website for the many ways topics in US history and the experiences of people with disabilities intersect, use this link, or type the word "disability" into the search bar on the website. ********************************** EmergingAmerica.org History eNews welcomes YOUR news & events. Published Wednesdays; deadline Sunday noon. Archived at http://EmergingAmerica.org/blog. - Reply to rcairn@collaborative.org to be removed from this list. Register for CES events. Teacher-created lessons, primary source sets, & assessments at: http://EmergingAmerica.org. Follow Emerging America on Twitter and Facebook.