EMERGING AMERICA HISTORY eNEWS Vol. 7, Issue 26 for September 16, 2020
NEWS
Next issue of the History eNews is September 30. Submit events & resources to rcairn@collaborative.org by September 27. 
Empower All Learners 
NEW COURSE: From Reform to Equal Rights:
Teach Disability History in the K-12 Classroom
Learn the new online content in the 2018 History Standards
Online October 27 through December 7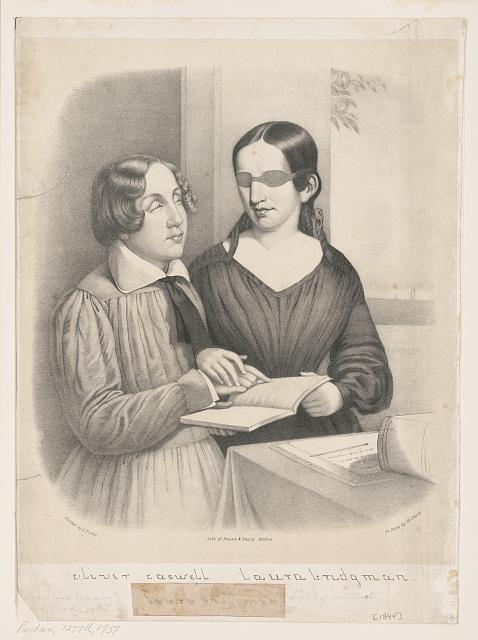 https://www.loc.gov/item/2003674412/ 
Laura Bridgman teaches Oliver Caswell at the Perkins School for the Blind. The penciled inscription reads: "The blind leading the blind by the light of the intellect." [1844]. Note use of the form-guided signatures. 
EVENTS @ EMERGING AMERICA - Info & Registration.
Contact rcairn@collaborative.org.
HISTORY AND CIVICS EDUCATION COURSES
PDPs / OR optional grad credit available from Westfield State University.  
Accessing Inquiry for English Learners through Primary Sources

From Reform to Equal Rights: Teaching Disability History in the K-12 Classroom

PDPs or 1 grad credit. Led by Rich Cairn, Emerging America, and scholar Graham Warder. Details. This exciting new course will trace the emergence of Disability Rights over two centuries, addressing multiple new content standards in Massachusetts and other states. 

October 27 to December 7. Register by October 13.
Contact Rich Cairn rcairn@collaborative.org about scheduling Accessing Inquiry and other professional development workshops remotely in your school district or region for 2020-2021.
NEW RESOURCES AT THE LIBRARY OF CONGRESS
TPS Teachers Network - Teachers with interest in working with primary sources are welcome to join this network. 
Featured this issue - YOU MUST LOGIN FIRST FOR THESE LINKS TO WORK:
Library of Congress Teacher Blog http://blogs.loc.gov/teachers/
Five Questions with Peter DeCraene, the 2020-2021 Albert Einstein Distinguished Educator Fellow at the Library of Congress.
Jason Reynolds: The 2020 National Book Festival.  
EVENTS
SUMMER
​​​
RESOURCES
NEW RESOURCES FOR TEACHING ONLINE
See Resources for Education During a Pandemic for complete list.
---
EmergingAmerica.org History eNews welcomes YOUR news & events. 
Published Wednesdays; deadline Sunday noon. Archived at http://EmergingAmerica.org/blog. 
Register for CES events.
Teacher-created lessons, primary source sets, & assessments at: http://EmergingAmerica.org. 
Follow Emerging America on Twitter and Facebook.  
Content created and featured in partnership with the TPS program does not indicate an endorsement by the Library of Congress.