EMERGING AMERICA HISTORY eNEWS Vol. 4, Issue 35 for October 4, 2017
NEWS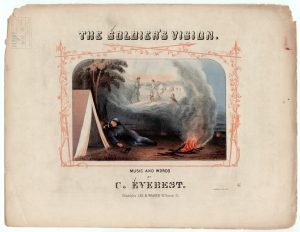 The Soldier's Vision. 1862.
The National Association for Music Education published several primary source-based units online. Above item from Library of Congress collection of sheet music.
EVENTS @ EMERGING AMERICA -
Info
Can I book an Accessing Inquiry workshop in my district? YES! Contact rcairn@collaborative.org.
FULL!

October 19 & Nov. 16 - Hudson High School - "Accessing Inquiry for Students with Disabilities through Primary Sources" - 22.5 PDPs or 1 grad credit in History.

REGISTER

.
"Accessing Inquiry" courses meet Mass license renewal requirements for 15-hours PD on students with disabilities or 15-hours PD on English Learners. Link to renewal regulations. Optional 1 Westfield State University grad credit in History available.
NEW RESOURCES AT THE LIBRARY OF CONGRESS
TPS Teachers Network - Teachers with experience working with primary sources are welcome to

join this network

.
Featured this week:
Library of Congress Teacher Blog http://blogs.loc.gov/teachers/
Five Questions with Shelly NiTuama, Literature and Language Specialist at NEH.

Banned Books - Textbook Burnings During WWI.
OTHER RECOMMENDED EVENTS - Across Massachusetts and the U.S.
Resources:
********************************** EmergingAmerica.org History eNews welcomes YOUR news & events. Published most Wednesdays; deadline Monday noon. Archived at http://EmergingAmerica.org/blog. - Reply to rcairn@collaborative.org to be removed from this list. Register for CES events. Teacher-created lessons, primary source sets, & assessments at: http://EmergingAmerica.org. Follow Emerging America on Twitter and Facebook.