EMERGING AMERICA HISTORY eNEWS Vol. 4, Issue 38 for October 25, 2017
NEWS
Perkins School in Watertown screened a partial rough cut of the upcoming American Masters film Becoming Helen Keller, with filmmaker Laurie Block. Wow! Groundbreaking presentation, accessibility for the audience, and story.  Catch the trailer:

https://www.becominghelenkeller.org/

.

The Department of Elementary and Secondary Education has a new website.

http://www.doe.mass.edu/

What do you all think of it?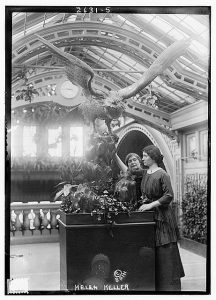 Helen Keller (1880-1968) with her teacher Anne Sullivan Macy (1866-1936) possibly at the International Flower Show, New York City, April 1913.
EVENTS @ EMERGING AMERICA - Info Can I book an Accessing Inquiry workshop in my district? YES! Contact rcairn@collaborative.org.
NEW RESOURCES AT THE LIBRARY OF CONGRESS
TPS Teachers Network - Teachers with experience working with primary sources are welcome to

join this network

.
Featured this week - YOU MUST LOG-IN FIRST FOR THESE LINKS TO WORK:
Library of Congress Teacher Blog http://blogs.loc.gov/teachers/
An Ode to Autumn - by Helen Keller, 1893.

Native American Heritage Month - Resources.
OTHER RECOMMENDED EVENTS - Across Massachusetts and the U.S.
Oct. 26 - 7pm -

American Antiquarian Society

- Worcester. Minutement Revisited. Robert Gross.

Nov. 2 and 30 - 5-8pm - Holyoke Public Library - Two-part workshop on

teaching James Baldwin

. Including documentary film, discussion, and teaching strategies.
Resources:
Boston Public Library Leventhal Map Center is putting 200,000

vinyl records

online.

The National Council for the Social Studies is offering free access to two academic journals on a trial basis. One more reason to

join NCSS

!
********************************** EmergingAmerica.org History eNews welcomes YOUR news & events. Published most Wednesdays; deadline Monday noon. Archived at http://EmergingAmerica.org/blog. - Reply to rcairn@collaborative.org to be removed from this list. Register for CES events. Teacher-created lessons, primary source sets, & assessments at: http://EmergingAmerica.org. Follow Emerging America on Twitter and Facebook.