EMERGING AMERICA HISTORY eNEWS Vol. 5, Issue 39 for October 24, 2018
NEWS
World Geography and Ancient Civilizations and the World Digital Library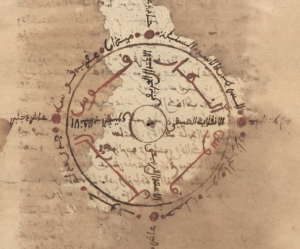 Timbuktu, founded around 1100 as a commercial center for trade across the Sahara Desert, was also an important seat of Islamic learning from the 14th century onward. The libraries of Timbuktu contain many important manuscripts, in different styles of Arabic scripts, which were written and copied by Timbuktu's scribes and scholars. These works constitute the city's most famous and long-lasting contribution to Islamic and world civilization. This early 18th-century text was written to train scholars in the field of astronomy, a science that Islamic tradition traces back to Adam and to the prophet Idris. The author discusses, among many other aspects of astronomy, how to use the movements of the stars to calculate the beginning of the seasons. He also discusses how to cast horoscopes. The work includes a diagram representing the rotation of the heavens.
https://www.wdl.org/en/item/462/#q=Timbuktu
Contact rcairn@collaborative.org. HISTORY AND CIVICS EDUCATION COURSES World Geography and History: Designing Grades 6-7. Gain content knowledge in World History and Geography. Unpack, examine, and align courses to new History and Social Science standards. Offered twice. Register.
Nov. 15 and Dec. 6 - CES, Northampton.

Jan. 29 and Feb. 5 - CES, Northampton.
Integrating Civic Engagement Projects Across the Curriculum. How will YOU meet the new Massachusetts requirement to offer civic engagement projects? Learn the basics. Generate and test fly a specific action plan. Taught by national service-learning and civic engagement leader, Rich Cairn. Register.
Jan. 23 and March 13 - CES, Northampton.
NEW RESOURCES AT THE LIBRARY OF CONGRESS
TPS Teachers Network - Teachers with experience working with primary sources are welcome to

join this network

.

Featured this week - YOU MUST LOGIN FIRST FOR THESE LINKS TO WORK:

Feature Discussions:
Library of Congress Teacher Blog http://blogs.loc.gov/teachers/
Five Questions with Sasha Dowdy, Program Specialist, Young Readers Center

The Theodore Roosevelt Papers: Study the 26th President of the United States with Library of Congress Resources
OTHER RECOMMENDED EVENTS
- Across Massachusetts and the U.S
Other Resources:
California History-Social Science Project -

Teaching Blog

George Washington's Mount Vernon - Student voice and accessible civics-history through videos at Mt Vernon website -

Info

Teaching Tolerance - Best Practices for Serving LGBTQ Students -

Info
New Accessible Lesson Plan:
The Effects of Imperialism on the People of Africa and the Americas
  The legacy of European colonialism in Africa and Latin America has caused lasting geopolitical effects on both continents. A student of World History can easily see the cause and effect relationships between the division of African and Latin American lands by European powers and the lasting effects of modern conflicts by analyzing the following primary source materials. Featured within the set are recommended secondary sources, classroom activity ideas, and primary source sets produced by the Library of Congress. Materials are divided into two sections: Africa and the Americas. Primary sources images and film recordings allow for a well rounded glimpse into the effects of imperialism. (Search and find dozens more exemplary, accessible, free lessons on a variety of topics at Emerging America Teaching Resources.) ********************************** EmergingAmerica.org History eNews welcomes YOUR news & events. Published Wednesdays; deadline Sunday noon. Archived at http://EmergingAmerica.org/blog. - Reply to rcairn@collaborative.org to be removed from this list. Register for CES events. Teacher-created lessons, primary source sets, & assessments at: http://EmergingAmerica.org. Follow Emerging America on Twitter and Facebook.