EMERGING AMERICA HISTORY eNEWS Vol. 4, Issue 37 for October 18, 2017
NEWS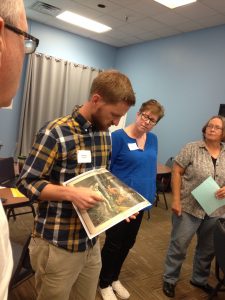 Kansas teacher analyze political cartoon in Accessing Inquiry for English Learners through Primary Sources workshop. ESSDACK staff Glenn Wiebe and Terri Peckham will teach the course in Kansas in 2018.
http://emergingamerica.org/programs/library-congress-tps
EVENTS @ EMERGING AMERICA -
Info
Can I book an Accessing Inquiry workshop in my district? YES! Contact rcairn@collaborative.org.
Oct. 20 - Westborough - Mass Council for the Social Studies - Fall Conference.

http://www.masscouncil.org/

Check out our workshops on Civic Literacy and Primary Sources.
NEW RESOURCES AT THE LIBRARY OF CONGRESS
TPS Teachers Network - Teachers with experience working with primary sources are welcome to

join this network

.
Featured this week - YOU MUST LOG-IN FIRST FOR THESE LINKS TO WORK:
Newly digitized dramatic drawings from the Civil War. Overview.
Harry Houdini. An Illusionists Exposés through Primary Sources.

Teaching with Music-Related Primary Sources.

Primary Sources Across the Curriculum: Connecting the Spider Webs
OTHER RECOMMENDED EVENTS - Across Massachusetts and the U.S.
Resources:
********************************** EmergingAmerica.org History eNews welcomes YOUR news & events. Published most Wednesdays; deadline Monday noon. Archived at http://EmergingAmerica.org/blog. - Reply to rcairn@collaborative.org to be removed from this list. Register for CES events. Teacher-created lessons, primary source sets, & assessments at: http://EmergingAmerica.org. Follow Emerging America on Twitter and Facebook.