EMERGING AMERICA HISTORY eNEWS Vol. 5, Issue 41 for November 7, 2018
NEWS
Teaching Tolerance -

Pittsburgh Shooting Reminds Us Why We Must Talk About Hate

Library of Congress - Teaching with Primary Sources Internship - The Young Readers Center (YRC) - January 14 through May 3, 2019 - Gain Experience and Build Knowledge of the LOC - Apply by November 25 -

Information

Webinar: "Understanding the Standards for History and Social Sciences Practice"

November 27, 2018 - 5:00-6:30 PM.

Presented by:

Kelley Brown, Professional Development Coordinator, and Social Studies Department Chair, Easthampton High School.

Register

.

Webinar: "Media Literacy and Civic Engagement: Promoting Active Learning in the K-12 Classroom and Community."

Dec. 10, 2018 - 5:00-6:30 PM.

Presented by:

Wendy Rivenburgh, Project Based Learning and Media Literacy Specialist, YouthLearn, Education Development Center.

Register

.

Long term history sub needed in West Boylston - contact Derek Vandegrift.
Applications now open for Emerging America NEH Summer 2019 workshop Forge of Innovation: The Springfield Armory and the Genesis of American Industry http://emergingamerica.org/programs/neh-forge-innovation National Endowment for the Humanities summer fellowships award K-12 teachers $1,200 travel and housing stipend. Forge of Innovation will investigate how the newly independent United States rose to become the world's leading industrial power. Shifting from crafting rifles individually to production with interchangeable parts, the Armory revolutionized manufacturing forever. Springfield manufacturers later applied this capacity to life-changing products, from sewing machines and medical devices, to America's first automobiles. Participants will explore historic New England landscapes: mills, canals, cultural centers, and homes; study compelling sources: maps, letters, business records, paintings, tools, and machinery; contrast distinct ideas of industrialization, featuring the abolitionist Northampton Association; and explore workers' lives, from Yankee mechanics to immigrants, African Americans, and women. NEH program page here.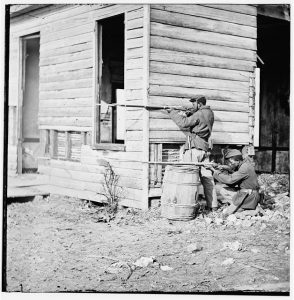 Dutch Gap, Virginia. Picket station of Colored troops near Dutch Gap canal 
http://www.loc.gov/pictures/resource/cwpb.01930/
Contact rcairn@collaborative.org. HISTORY AND CIVICS EDUCATION COURSES World Geography and History: Designing Grades 6-7. Gain content knowledge in World History and Geography. Unpack, examine, and align courses to new History and Social Science standards. Offered twice. Register.
FULL - Nov. 15 and Dec. 6 - CES, Northampton.

Jan. 29 and Feb. 5 - CES, Northampton.
Integrating Civic Engagement Projects Across the Curriculum. How will YOU meet the new Massachusetts requirement to offer civic engagement projects? Learn the basics. Generate and test fly a specific action plan. Taught by national service-learning and civic engagement leader, Rich Cairn. Register.
Jan. 23 and March 13 - CES, Northampton.
NEW RESOURCES AT THE LIBRARY OF CONGRESS
TPS Teachers Network - Teachers with experience working with primary sources are welcome to

join this network

.

Featured this week - YOU MUST LOGIN FIRST FOR THESE LINKS TO WORK:

Feature Discussions:
Library of Congress Teacher Blog http://blogs.loc.gov/teachers/
Celebrate the 200th Anniversary of Frankenstein with Monstrous Primary Sources and Frankenreads!

Inspiring Citizen Action with the National Screening Room

Readers, Writers, and Gruffalos: Looking Back at the Imagination Library Story Time Series at the Library of Congress
Library of Congress News:
OTHER RECOMMENDED EVENTS
- Across Massachusetts and the U.S.
Other Resources:
Emerging America Lesson Plan:
Technological Innovation and Change in the Connecticut River Valley in the Antebellum Era
  In this research project, students will analyze and evaluate the development of the technology that shaped the American Industrial Revolution during the Antebellum Era through investigation of examples from the Connecticut River Valley. Instruction and guided research will support students as they expand understanding of industrialization and use textual evidence from primary and secondary sources to create and defend historical arguments.  Students will have the opportunity to showcase their knowledge through the development of written arguments focused on the specific innovations most essential to the process of industrialization during the Antebellum Era. Download lesson PDF. Browse the Emerging America library of lesson plans and primary sources sets. ********************************** EmergingAmerica.org History eNews welcomes YOUR news & events. Published Wednesdays; deadline Sunday noon. Archived at http://EmergingAmerica.org/blog. - Reply to rcairn@collaborative.org to be removed from this list. Register for CES events. Teacher-created lessons, primary source sets, & assessments at: http://EmergingAmerica.org. Follow Emerging America on Twitter and Facebook.