NEWS
Free Webinar on Media Literacy and Civic Engagement. Gain insights on these vital components to 2018 History and Social Science Curriculum Framework and the new Civic Engagement legislation. December 10 - 5:00-6:30pm.

Register.

New accessible lesson at

http://EmergingAmerica.org

on Magna Carta. (See bottom of page below).
Webinar: Media Literacy and Civic Engagement
Promoting Active Learning in the K-12 Classroom and Community  
https://www.collaborative.org/events-and-courses/media-literacy-and-civic-engagement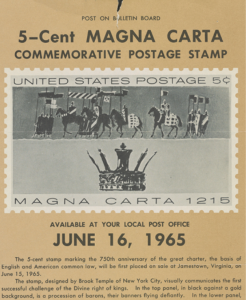 Magna Carta U.S. Postage Stamps, first day covers and flyer, June 15, 1965. Private collection and courtesy of Martha Hopkins
https://www.loc.gov/exhibits/magna-carta-muse-and-mentor/magna-carta-in-culture.html
Contact rcairn@collaborative.org. HISTORY AND CIVICS EDUCATION COURSES World Geography and History: Designing Grades 6-7. Gain content knowledge in World Geography and Ancient History. Unpack, examine, and align courses to new History and Social Science standards. Two-day course. Grad credit available. Register.
Jan. 29 and Feb. 5 - CES, Northampton.
Integrating Civic Engagement Projects Across the Curriculum. How will YOU meet the new Massachusetts requirement to offer civic engagement projects? Learn the basics. Generate and test fly a specific action plan. Taught by national service-learning and civic engagement leader, Rich Cairn. Two-day course. Grad credit available. Register.
Jan. 23 and March 13 - CES, Northampton.
NEW RESOURCES AT THE LIBRARY OF CONGRESS
TPS Teachers Network - Teachers with experience working with primary sources are welcome to

join this network

.

Featured this week - YOU MUST LOGIN FIRST FOR THESE LINKS TO WORK:

Feature Discussions:
Library of Congress Teacher Blog http://blogs.loc.gov/teachers/
How Could You Use Primary Sources in Your STEM Classroom? Find Out at the National Science Teachers Association Area Conference on Science Education!

Resources from the Library of Congress for Teaching English and Language Arts

Remembering "A Thanksgiving Truce"
OTHER RECOMMENDED EVENTS
- Across Massachusetts and the U.S.
November 29 - 6-7:30pm - JFK Presidential Library and Museum - Religion and Politics in America -

Register

November 29 - 6:30pm - Facing History and Ourselves - Exclusive Webinar: A Conversation with Steven Spielberg: Using

Schindler's List

in the Classroom -

Register

December 1 - 2pm - Historic Northampton - The Search for Lickingwater and the Making of Northampton: An Illustrated Public Talk by John Sinton

December 4 - 6-7:30pm - JFK Presidential Library and Museum - From Boston to Yorktown: Tales of the National Trails -

Register

December 5 - 6-7:30pm - JFK Presidential Library and Museum - Something Wonderful: Rodgers and Hammerstein's Broadway Revolution -

Register

December 6 - 7:00-7:45pm EST. Webinar - FDR and the Four Freedoms. Constitutional Rights Foundation and Barat Foundation. -

Register

.

December 9 - 1-2pm - Pioneer Valley Historic Network - Virtual Tour: Inside the Strathmore Paper Mill -

Information

 

January 3-6 - American Historical Association Annual Meeting -

Information and Registration

January 15 - 8:30am-3:30pm - Democracy at Risk: Holocaust and Human Behavior -

Information and Registration

(Fee)

January 23 - 4-5pm - Igniting Student Agency Through Civics Literacy (Webinar) -

Information

(Free)

April 4-6 - Organization of American Historians Annual Meeting -

Information and Registration
Summer 2019:
FREE - $1,200 stipend. July 7-12 or July 21-26.

Emerging America NEH Summer 2019 workshop.

Forge of Innovation: The Springfield Armory and the Genesis of American Industry. Applications due by March 1.

http://emergingamerica.org//programs/neh-forge-innovation

.

George Washington's Mount Vernon - Summer Residential Programs -

Information

June 11-15 - Leadership and Legacy: Lessons from George Washington

June 18-22 - Slavery in George Washington's World

July 9-13 - Martha Washington and the Women of the 18th Century

July 16-20 - First in Business: George Washington, Mount Vernon, and the New Nation

July 30-August 3 - Washington at War: From Soldier to Commander in Chief

August 6-10 - The Great Experiment: George Washington and the Founding of the U.S. Government
Other Resources:
New Emerging America Civics Lesson Plan:
The Magna Carta: Due Process from King John to the 14th Amendment and Beyond A new lesson, appropriate for 8th grade civics and adaptable for other grades, asks: What impact did the Magna Carta have on the U.S. Constitution and the shaping of the 14th Amendment? With a particular emphasis placed on the due process of law, students analyze and organize primary source documents ranging from a British Court of Common Pleas from 1610 to Chief Justice Warren's notes on Miranda v. Arizona in 1966. After looking at the history of due process, students consider a contemporary case in which police use of a robot to kill a man after a standoff is challenged. Students will learn through inquiry and recognize that historical events do not exist in a vacuum, but rather have long term and profound repercussions. Download lesson PDF, or browse the Emerging America teacher Resource Library.   ********************************** EmergingAmerica.org History eNews welcomes YOUR news & events. Published Wednesdays; deadline Sunday noon. Archived at http://EmergingAmerica.org/blog. - Reply to rcairn@collaborative.org to be removed from this list. Register for CES events. Teacher-created lessons, primary source sets, & assessments at: http://EmergingAmerica.org. Follow Emerging America on Twitter and Facebook.