EMERGING AMERICA HISTORY eNEWS Vol. 4, Issue 40 for November 15, 2017
NEWS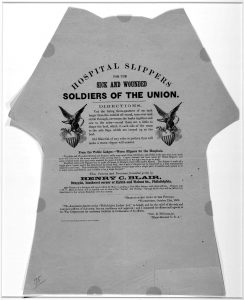 One of my favorite weird primary sources. Printed as an advertisement, a pattern for slippers for wounded soldiers in Union hospitals. (1861). See Teaching with the Library of Congress blog
EVENTS @ EMERGING AMERICA - Info
Can I book an Accessing Inquiry workshop in my district? YES! Contact rcairn@collaborative.org. NEW RESOURCES AT THE LIBRARY OF CONGRESS
TPS Teachers Network - Teachers with experience working with primary sources are welcome to

join this network

.
Featured this week - YOU MUST LOG-IN FIRST FOR THESE LINKS TO WORK:
Library of Congress Teacher Blog http://blogs.loc.gov/teachers/
Thanksgiving through political cartoons.

Documenting the Lives of Veterans.

Providing Comfort for Veterans of the Civil War
OTHER RECOMMENDED EVENTS - Across Massachusetts and the U.S.
Summer 2018 (With Stipends)
Resources:
********************************** EmergingAmerica.org History eNews welcomes YOUR news & events. Published most Wednesdays; deadline Monday noon. Archived at http://EmergingAmerica.org/blog. - Reply to rcairn@collaborative.org to be removed from this list. Register for CES events. Teacher-created lessons, primary source sets, & assessments at: http://EmergingAmerica.org. Follow Emerging America on Twitter and Facebook.