EMERGING AMERICA HISTORY eNEWS Vol. 5, Issue 42 for November 14, 2018
NEWS
GOVERNOR SIGNS CIVICS BILL!

Details

Lesson on veterans available at EmergingAmerica.org. (See below.)
Webinar: Understanding the New Practice Standards Heart of the 2018 Massachusetts History and Social Science Curriculum Framework https://www.collaborative.org/events-and-courses/understanding-standards-history-and-social-sciences-practice-webinar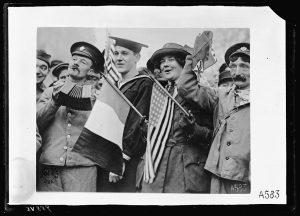 Paris. A "gob," two "Tommys," and a Red Cross girl went to make up this merry quartette in Paris on Armistice Day
https://www.loc.gov/item/2017666563/?loclr=blogflt
Contact rcairn@collaborative.org. HISTORY AND CIVICS EDUCATION COURSES World Geography and History: Designing Grades 6-7. Gain content knowledge in World History and Geography. Unpack, examine, and align courses to new History and Social Science standards. Offered twice. Register.
FULL - Nov. 15 and Dec. 6 - CES, Northampton.

Jan. 29 and Feb. 5 - CES, Northampton.
Integrating Civic Engagement Projects Across the Curriculum. How will YOU meet the new Massachusetts requirement to offer civic engagement projects? Learn the basics. Generate and test fly a specific action plan. Taught by national service-learning and civic engagement leader, Rich Cairn. Register.
Jan. 23 and March 13 - CES, Northampton.
NEW RESOURCES AT THE LIBRARY OF CONGRESS
TPS Teachers Network - Teachers with experience working with primary sources are welcome to

join this network

.

Featured this week - YOU MUST LOGIN FIRST FOR THESE LINKS TO WORK:

Feature Discussions:
Library of Congress Teacher Blog http://blogs.loc.gov/teachers/
Native American Newspapers: Studying the History through the Eyes of the Community

Primary Sources for Musical Learning: Join the Library of Congress at NAfME and Explore Our Musical Resources
Library of Congress News:
Other Resources:
Emerging America Lesson Plan:
Who Should Care for America's Veterans?
  Care for veterans is relevant to understanding war and the role of government, and is critical to disability history. In this lesson, students gather information through a variety of primary sources on the experiences of veterans from the War of Independence through today. They ask, 'How has U.S. government care for veterans changed over time?' Using their evidence, students develop a proposal to today's Veterans Administration that outlines how veterans should be cared for. Download PDF. Browse the Emerging America library of lesson plans and primary sources sets.   ********************************** EmergingAmerica.org History eNews welcomes YOUR news & events. Published Wednesdays; deadline Sunday noon. Archived at http://EmergingAmerica.org/blog. - Reply to rcairn@collaborative.org to be removed from this list. Register for CES events. Teacher-created lessons, primary source sets, & assessments at: http://EmergingAmerica.org. Follow Emerging America on Twitter and Facebook.