EMERGING AMERICA HISTORY eNEWS Vol. 5, Issue 18 for May 2, 2018
DESE statewide Civics Education Institute for 250 educators July 24-26 in Marlborough.
Focus is on creating or strengthening 8th grade civics courses.
Register by school district.
NEWS
Massachusetts Civics legislation - follow

current status and action

. Bill passed Senate; still in committee in House.

Helen Keller PBS biography trailer.

http://kck.st/2F8YaWf

Everyone knows her name, the legend, the jokes. Her story is bigger.
Who Should Care for America's Veterans? New Accessible Lesson at EmergingAmerica.org! See info below.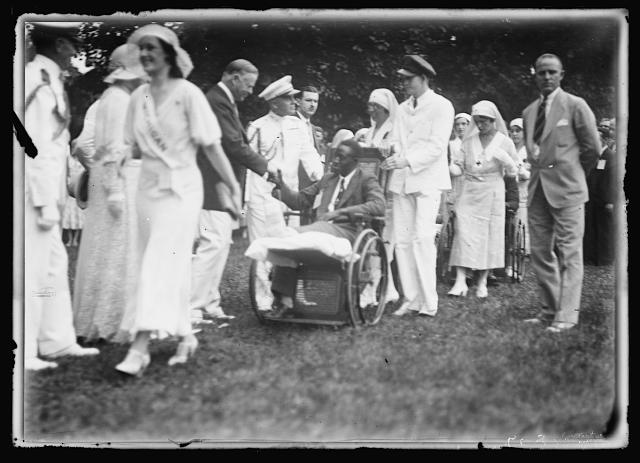 Wounded veterans and Red Cross nurses in receiving line on White House lawn (between 1919-1929)[/caption] Red Cross, wounded veterans at White House, Washington, D.C. Image available at: https://www.loc.gov/item/2017680341/
Accessing Inquiry for Students with Disabilities Register now for June 2018.
Contact rcairn@collaborative.org. ACCESSING INQUIRY FOR ALL LEARNERS: Hands-on workshop to learn and practical skills for teaching diverse learners. "Accessing Inquiry" courses meet Mass license renewal requirements for 15-hours PD on students with disabilities or 15-hours PD on English Learners. Optional 1 Westfield State University grad credit in History available. Mark your calendars:
NEW! June 26-27 - North Adams ($72.50) Free to teachers of North Adams Public Schools.

Register

NEW! June 28-29 - Springfield ($72.50) Free to teachers of Springfield Public Schools.

Register
HISTORY AND CIVICS EDUCATION COURSES:
NEW! July 5 - August 5 - Fully online. The American War in Vietnam - Kelley Brown and Chris Appy. $35.

Register

.

NEW! July 18-20 - CES, Northampton -

Teaching Grades K-5 Civic Engagement and Social Studies. $250.

Register

.

NEW! July 30-31 - Boston Public Library - Immigration and Maps (Registration opens soon!)
NEW RESOURCES AT THE LIBRARY OF CONGRESS
TPS Teachers Network - Teachers with experience working with primary sources are welcome to

join this network

.

Featured this week - YOU MUST LOG-IN FIRST FOR THESE LINKS TO WORK:

Feature Discussions:
Harnessing Summer Excitement: Using a Medieval Travel Book to Spark Critical Thinking

Mark Twain: Exploring His Life and Work with Primary Sources
OTHER RECOMMENDED EVENTS - Across Massachusetts and the U.S
May 5 - 2pm - Springfield Armory - Actor portrayal of Sam Colt.

May 19 - Porter-Phelps-Huntington Museum - Hadley, MA - Historic Museum Opens - Saturday through Wednesday 1-4:30pm -

Museum Website
Summer 2018:
July 18 and 19 - 9am-3pm - Brookline, MA -

Teaching and Learning with the "Four Question Method," an inquiry method for history teachers and students. Info and registration:

www.4qmteaching.net

July 28 - Holyoke Community College - History Camp -

Info
New Accessible Lesson Plan: Who Should Care for America's Veterans? Care for veterans is relevant to understanding war and the role of government, and is critical to disability history. In this lesson, students gather information through a variety of primary sources on the experiences of veterans from the War of Independence through today. They ask, 'How has U.S. government care for veterans changed over time?' Using their evidence, students develop a proposal to today's Veterans Administration that outlines how veterans should be cared for. ********************************** EmergingAmerica.org History eNews welcomes YOUR news & events. Published Wednesdays; deadline Sunday noon. Archived at http://EmergingAmerica.org/blog. - Reply to rcairn@collaborative.org to be removed from this list. Register for CES events. Teacher-created lessons, primary source sets, & assessments at: http://EmergingAmerica.org. Follow Emerging America on Twitter and Facebook.