NEWS
Instructional videos and other resources on
Culturally Relevant Pedagogy and
Universal Design for Learning
in the Social Studies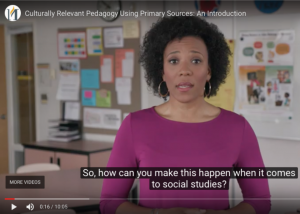 Register for online course:
Accessing Inquiry for Students with Disabilities through Primary Sources
(Details at bottom of page, below.)
Contact rcairn@collaborative.org.
HISTORY AND CIVICS EDUCATION COURSES
DEADLINE EXTENDED TO MARCH 7: Forge of Innovation: The Springfield Armory and the Genesis of American Industry, NEH Landmarks of American History and Culture Workshops for Teachers. Massachusetts teachers address new content and practice standards. Receive $1,200 stipend for travel and living expenses. Information and Registration
July 7-12 – Springfield, Sturbridge, Greenfield, Northampton, and Holyoke.
July 21-26 – Springfield, Sturbridge, Greenfield, Northampton, and Holyoke.
Accessing Inquiry for Students with Disabilities through Primary Sources. Instructors Rich Cairn & Alison Noyes. Meets Massachusetts 15-hour requirement for training in strategies for effective schooling for students with disabilities and the instruction of students with diverse learning styles. Grad credit available. Register.
March 27 to May 7 – FULLY ONLINE!
Teaching Grades K-5 Civic Engagement and Social Studies. Instructor Laurie Risler. Grad credit available. Register.
April 23 and May 21 – Northampton.
New: America Transformed: Teaching Westward Expansion Using Primary Sources. Instructors Michelle LeBlanc, Rich Cairn, and historian Heather Cox Richardson
April 3 & April 10, 2019, 9am-3pm – Boston Public Library, Leventhal Map Center. Register with Leventhal.
NEW RESOURCES AT THE LIBRARY OF CONGRESS
TPS Teachers Network – Teachers with experience working with primary sources are welcome to join this network.

Featured this week – YOU MUST LOGIN FIRST FOR THESE LINKS TO WORK:
Feature Discussions:
Library of Congress Teacher Blog http://blogs.loc.gov/teachers/
America's Changemakers in Song: Celebrating Music In Our Schools Month with Library of Congress Primary Sources
Sergeants Robert A. Pinn and William H. Thomas: African American Entrants in William O. Bourne's Left-Handed Penmanship Contests, 1865-1867
OTHER RECOMMENDED EVENTS – Across Massachusetts and the U.S.
Summer 2019:
Other Resources:
Engagement Strategies from Emerging America:
History Education Resources: Culturally Relevant Pedagogy and Primary Sources videos for teachers
On the EmergingAmerica.org website, we are gathering resources that teachers can use to expand their repertoire of strategies for supporting all learners.  The Minnesota Historical Society has published a series of brief educational videos for new and experienced teachers. Each 10 minute segment introduces the concepts of culturally relevant pedagogy and the ways that using primary sources expands students' understanding of history.
Minnesota teaching materials, including curriculum featured in the videos.
Check out Accessing Inquiry Engagement Strategies page at EmergingAmerica.org for more professional development videos and articles.
**********************************
EmergingAmerica.org History eNews welcomes YOUR news & events.
Published Wednesdays; deadline Sunday noon. Archived at http://EmergingAmerica.org/blog.
– Reply to rcairn@collaborative.org to be removed from this list.
Register for CES events.
Teacher-created lessons, primary source sets, & assessments at: http://EmergingAmerica.org.