EMERGING AMERICA HISTORY eNEWS Vol. 5, Issue 12 for March 21, 2018
NEWS
Legislature considering Civic Engagement Bill.

Info on the Bill.

Supporters will

turn out at the State House April 4

National HIstory Teacher of the Year - Nominations due March 31, 2018 -

Info

Public comment on the 2018 History and Social Science Curriculum Framework draft remains open until April 2, 2018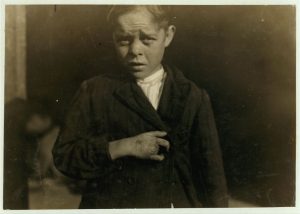 New Accessible Lesson at EmergingAmerica.org! See blog post below. Young Cotton Mill Worker. A Piece of machine fell on his foot mashing his toe. This caused him to fall on to a spinning machine and his hand went into the unprotected gearing, crushing and tearing out two fingers. October 23, 1912. Bessemer City, North Carolina https://www.loc.gov/item/ncl2004003660/PP/
Accessing Inquiry for Students with Disabilities
Register now for Spring 2018. EVENTS @ EMERGING AMERICA - Info & Registration. Contact rcairn@collaborative.org. WORLD AND U.S. HISTORY:
March 23 & 24 - 8:45am - 3:45pm - Plymouth North High School - America and World Fascism: From the Spanish Civil War to Nuremberg and Beyond ($35).

Registration

.  
ACCESSING INQUIRY FOR ALL LEARNERS: Hands-on workshop to learn and practical skills for teaching diverse learners.
Accessing Inquiry for Students with Disabilities through Primary Sources:
"Accessing Inquiry" courses meet Mass license renewal requirements for 15-hours PD on students with disabilities or 15-hours PD on English Learners. Optional 1 Westfield State University grad credit in History available.
NEW RESOURCES AT THE LIBRARY OF CONGRESS
TPS Teachers Network - Teachers with experience working with primary sources are welcome to

join this network

.

Featured this week - YOU MUST LOG-IN FIRST FOR THESE LINKS TO WORK:

Feature Discussions:
Library of Congress Teacher Blog http://blogs.loc.gov/teachers/
Discovering Science in Congress.gov -

Info
OTHER RECOMMENDED EVENTS - Across Massachusetts and the U.S
March 22 - NCSS - Mapping Current Events: A Newsela and Google Adventure - Fee -

Info

April 7 - Five College Center for East Asian Studies -

Along the Silk Road - Register

May 19 - 8:30am-6pm - Historic Deerfield - Connoisseurship and Artful Deceptions: Understanding 18th-Century Ceramics -

Info and Registration
Other Resources:
New Accessible Lesson Plan: Injuries and Disability in 19th Century Industry In this lesson students will learn that incurring a disability at work was a common occurrence of the Industrial Revolution.  This lesson integrates disability history content within a larger 14-day unit on the Industrial Revolution. The lesson plan provides a series of activities that highlight the importance of children and adults with disabilities in 19th century workplaces, and the ways primary source photographs provide information and inspire critical questions. In total, these activities, teaching tools of analysis for primary sources, and exploring disability history, could take up to six hours. ********************************** EmergingAmerica.org History eNews welcomes YOUR news & events. Published most Wednesdays; deadline Monday noon. Archived at http://EmergingAmerica.org/blog. - Reply to rcairn@collaborative.org to be removed from this list. Register for CES events. Teacher-created lessons, primary source sets, & assessments at: http://EmergingAmerica.org. Follow Emerging America on Twitter and Facebook.