NEWS
Tuesday, April 9 – 3:30-5:00pm. Rescheduled final Social Studies Leaders of Western Mass PLC. Haymarket Cafe, Northampton. Discuss implementation of 2018 History and Social Science Curriculum Framework. Contact: rcairn@collaborative.org.
Library of Congress seeks applicants for Civics Teacher-in-Residence Position – Information and Application
March 21 – 7pm. Amy Goodman, host of daily news program, Democracy Now, Greene Hall, Smith College. www.historicnorthampton.org
Launching in July 2019: Democracy Lab: 8th Grade Civics for the 21st Century – partnered with Primary Source and Generation Citizen – Information
iCivics released a new game "Race to Ratify" – Watch the Trailer
Save the Date for Massachusetts DOE Civics and Social Science Events –

June 11 – 2019 Civics Literacy Conference
July 13 or July 14 – 2019 History & Social Science Professional Learning Institute
Learning to write again:
Students may relate to Civil War entrants in Left-Handed Penmanship Contests (See below.)
Register for Teaching grades K-5 Civic Engagement and Social Studies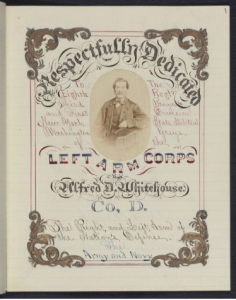 https://www.loc.gov/resource/mss13375.00507/?sp=20
Left-handed penmanship specimen submitted by Alfred D. Whitehouse
Contact rcairn@collaborative.org.
HISTORY AND CIVICS EDUCATION COURSES
SPRING SESSION FULL – ONLINE – Accessing Inquiry for Students with Disabilities through Primary Sources. Instructors Rich Cairn & Alison Noyes. Meets Massachusetts 15-hour requirement for training in strategies for effective schooling for students with disabilities and the instruction of students with diverse learning styles. Grad credit available. Register.
America Transformed: Teaching Westward Expansion Using Primary Sources. Instructors Michelle LeBlanc, Rich Cairn, and historian Heather Cox RIchardson
April 3 & April 10, 2019, 9am-3pm – Boston Public Library, Leventhal Map Center. Register with Leventhal.
Teaching Grades K-5 Civic Engagement and Social Studies. Instructor Laurie Risler. Grad credit available. Register.
April 23 and May 21 – Northampton.
NEW RESOURCES AT THE LIBRARY OF CONGRESS
TPS Teachers Network – Teachers with experience working with primary sources are welcome to join this network.

Featured this week – YOU MUST LOGIN FIRST FOR THESE LINKS TO WORK:
Feature Discussions:
Library of Congress Teacher Blog http://blogs.loc.gov/teachers/
Call for Applications: Civics Teacher-in-Residence Position
Expanding Student Understanding of Slavery in America by Exploring an Arabic Muslim Slave Narrative
Icebox: Exploring States of Matter Using Historic Photographs
OTHER RECOMMENDED EVENTS – Across Massachusetts and the U.S.
March 23 – 2pm – Pioneer Valley History Network: Lost Springfield presentation by local author and historia, Derek Strahan – Limited seating, Springfield Armory Museum
March 24 – 2pm – Historic Deerfield: "Through an Indian's Looking Glass: William Apess, Pequot" – Information
March 29 – 6-7pm – National Council on Public History: Considering Coltsville: A Revolving Story – Information
April 2 – Pioneer Valley History Network: Noteworthy Women of West Springfield 1635-1935 – West Springfield Public Library
April 27 – 9am – 4:30pm – Historic Deerfield: Federal Cabinetmaking – Kneeland and Adams of Hartford – Information and Registration
May 2-4 – Unveiling New Addition to Antiquarian Hall – Information

May 2 – 7pm – A Conversation with Jill Lepore on History and the Public
May 4 – 10am-3pm – Community Open House
Summer 2019:
June 25-28 – The Flow of History: History, Race, and Inclusive Education (Residential Institute) Grafton, VT – (Fee) – Information and Application
July 9-12 – The Flow of History: Reading and Writing About History with Natalie Kinsey-Warnock (Residential Institute)  Norwich, VT – (Fee) – Information and Application
July 21-26 – The American Antiquarian Society CHAViC Summer Seminar: "The Political is Visual"(Fee) – Information and Application
Other Resources:
Featured Lesson from Library of Congress Blog
Black Civil War Soldiers featured in lesson plan: Left Handed Penmanship Contest for Wounded Civil War Soldiers is a trove of personal stories of soldiers
Left handedness was not encouraged in most classrooms of the nineteenth century, but in the aftermath of the US Civil War, thousands of wounded veterans were suddenly without the use of their right hands. In 1865, to encourage the newly left-handed men, the editor of the Union veteran's newspaper The Soldier's Friend invited submissions for a left-handed penmanship contest to be entered by submitting a letter. Retired social studies teacher Paul LaRue has developed a lesson using letters written by two of the 200,000 black soldiers and sailors who served in the Civil War. His lesson teams up students to decipher the cursive penmanship and learn about how these soldiers describe their experiences. Read the details in the February 2019 post in the Teaching with the Library of Congress blog.
**********************************
EmergingAmerica.org History eNews welcomes YOUR news & events.
Published Wednesdays; deadline Sunday noon. Archived at http://EmergingAmerica.org/blog.
– Reply to rcairn@collaborative.org to be removed from this list.
Register for CES events.
Teacher-created lessons, primary source sets, & assessments at: http://EmergingAmerica.org.