EMERGING AMERICA HISTORY eNEWS Vol. 5, Issue 11 for March 14, 2018
NEWS
Due to snow day yesterday, the March 13 and April 3 Accessing Inquiry workshop in Boston has been rescheduled to April 3 and May 22. Registration is reopened. (See below.)

We the People Showcase at Edward M. Kennedy seeks judge - April 9, 9am-1pm
---
New Accessible Lesson at EmergingAmerica.org! See blog post below.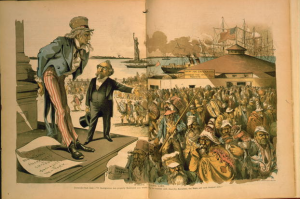 Where the blame lies, by Grant E. Hamilton, April 4, 1891 http://www.loc.gov/pictures/item/97515495/
Accessing Inquiry for Students with Disabilities Register now for Spring 2018.
---
Contact rcairn@collaborative.org. WORLD AND U.S. HISTORY:
March 23 & 24 - 8:45am - 3:45pm - Plymouth North High School - America and World Fascism: From the Spanish Civil War to Nuremberg and Beyond ($35).

Registration

.  
ACCESSING INQUIRY FOR ALL LEARNERS: Hands-on workshop to learn and practical skills for teaching diverse learners.
Accessing Inquiry for Students with Disabilities through Primary Sources:
"Accessing Inquiry" courses meet Mass license renewal requirements for 15-hours PD on students with disabilities or 15-hours PD on English Learners. Optional 1 Westfield State University grad credit in History available.
NEW RESOURCES AT THE LIBRARY OF CONGRESS
TPS Teachers Network - Teachers with experience working with primary sources are welcome to

join this network

.

Featured this week - YOU MUST LOG-IN FIRST FOR THESE LINKS TO WORK:

Feature Discussions:
Library of Congress Teacher Blog http://blogs.loc.gov/teachers/
OTHER RECOMMENDED EVENTS - Across Massachusetts and the U.S
Other Resources:
Summer 2018:
The University of the Arts - Library of Congress - Tuition Free/Reduced Rate for Grad Credit
---
New Accessible Lesson Plan on Immigration Online Immigration versus Nativism The topic of immigration is just as controversial today as it was at the turn of the twentieth century. In this one-day lesson, students will immerse themselves in the attitudes and opinions of many native-born Americans (Nativists) who did not welcome the arrival of immigrants from certain countries. Students will use music and political cartoons from the period to wonder, investigate, and construct new understandings of the popular opinions towards immigrants at the time. Students will then will reflect on their learning and connect that to their knowledge of opinions on immigration today. Their homework will be to create a period-correct Letter to the Editor expressing their opposition to or support for immigration, or to create a period-correct political cartoon also expressing their opposition to or support for immigration. Included in the lesson is a Universal Design for Learning Chart and a rubric for editorial writing. ********************************** EmergingAmerica.org History eNews welcomes YOUR news & events. Published most Wednesdays; deadline Monday noon. Archived at http://EmergingAmerica.org/blog. - Reply to rcairn@collaborative.org to be removed from this list. Register for CES events. Teacher-created lessons, primary source sets, & assessments at: http://EmergingAmerica.org. Follow Emerging America on Twitter and Facebook.