NEWS
America Transformed: Teaching Westward Expansion Using Primary Sources
With historian Heather Cox Richardson
April 3 & April 10, 2019 – Boston Public Library, Leventhal Map Center – Register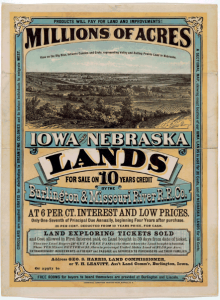 https://www.loc.gov/item/rbpe.13401300/
Westward Expansion Primary Source Set http://www.loc.gov/teachers/classroommaterials/primarysourcesets/westward/
Contact rcairn@collaborative.org.
HISTORY AND CIVICS EDUCATION COURSES
ONLINE COURSE – Accessing Inquiry for Students with Disabilities through Primary Sources. Instructors Rich Cairn & Alison Noyes. Meets Massachusetts 15-hour requirement for training in strategies for effective schooling for students with disabilities and the instruction of students with diverse learning styles. Grad credit available. Register.
America Transformed: Teaching Westward Expansion Using Primary Sources. Instructors Michelle LeBlanc, Rich Cairn, and historian Heather Cox RIchardson
April 3 & April 10, 2019, 9am-3pm – Boston Public Library, Leventhal Map Center. Register with Leventhal.
Teaching Grades K-5 Civic Engagement and Social Studies. Instructor Laurie Risler. Grad credit available. Register.
April 23 and May 21 – Northampton.
NEW RESOURCES AT THE LIBRARY OF CONGRESS
TPS Teachers Network – Teachers with experience working with primary sources are welcome to join this network.

Featured this week – YOU MUST LOGIN FIRST FOR THESE LINKS TO WORK:
Feature Discussions:
Library of Congress Teacher Blog http://blogs.loc.gov/teachers/
Crowdsourcing and the Papers of Mary Church Terrell, Suffragist, and Civil Rights Activist
Singing Out for Social Justice
OTHER RECOMMENDED EVENTS – Across Massachusetts and the U.S.
Summer 2019:
Other Resources:
**********************************
EmergingAmerica.org History eNews welcomes YOUR news & events.
Published Wednesdays; deadline Sunday noon. Archived at http://EmergingAmerica.org/blog.
– Reply to rcairn@collaborative.org to be removed from this list.
Register for CES events.
Teacher-created lessons, primary source sets, & assessments at: http://EmergingAmerica.org.