NEWS
Renewed Focus on Elementary Social Studies - Implementing the 2018 Framework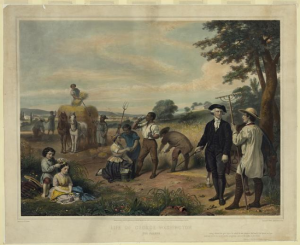 "Life of George Washington--The farmer / painted by Stearns ; lith. by Régnier, imp. Lemercier, Paris" (1853) Antebellum image invites discussion of the role of slavery in Colonial and Revolutionary America.  
Making the new HSS Framework Accessible:
Accessing Inquiry for Students with Disabilities through Primary Sources.
Including fully online session - March 27 to May 7.
Contact rcairn@collaborative.org. HISTORY AND CIVICS EDUCATION COURSES Accessing Inquiry for Students with Disabilities through Primary Sources. Instructors Rich Cairn & Alison Noyes. Meets 15-hour Massachusetts requirement for high quality professional development on teaching students with disabilities and diverse learners. Grad credit available. Register.
Feb. 27 and March 6 - Northampton.

March 27 to May 7 - FULLY ONLINE!
Teaching Grades K-5 Civic Engagement and Social Studies. Instructor Laurie Risler. Grad credit available. Register.
April 23 and May 21 - Northampton.
New: America Transformed: Teaching Westward Expansion Using Primary Sources. Instructor Michelle LeBlanc, Rich Cairn, and historian, Heather Cox RIchardson
April 3 & April 10, 2019, 9am-3pm - Boston Public Library, Leventhal Map Center.

Register

with Leventhal.
NEW RESOURCES AT THE LIBRARY OF CONGRESS
TPS Teachers Network - Teachers with experience working with primary sources are welcome to

join this network

.

Featured this week - YOU MUST LOGIN FIRST FOR THESE LINKS TO WORK:

Feature Discussions:
Library of Congress Teacher Blog http://blogs.loc.gov/teachers/
Applications Are Now Open for the 2019 Library of Congress Summer Institutes and Library Media Specialist Workshop

Earthrise 50th Anniversary: A Lesson on Perspective
Library of Congress Summer Institutes: Applications Open - An Opportunity Not to be Missed!
Open Sessions: July 8-12 and July 29-August 2

Science, Technology, and Engineering Focus - July 15-19
OTHER RECOMMENDED EVENTS
- Across Massachusetts and the U.S.
Summer 2019 Events:
Other Resources:
Emerging America Accessible Lesson:
Elementary Lesson Plan: What Do Trains Do? Exploring Local History Through Maps "Every student deserves to study history and social science every year, from pre-kindergarten through grade 12." With this guiding principle, the 2018 History and Social Science Framework of Massachusetts makes it clear that learning the skills to ask questions and study the past is now part of the expected curriculum starting in elementary school. "Like learning to read, write, or perform well in any other subject, learning history and social science takes time. An effective history and social science education is given adequate time in the school day to build knowledge and skills of increasing complexity." MA HSS Framework, p. 13. A wonderful lesson plan, written for Kindergarten students but adaptable for any of the early elementary grades, is "What do Trains Do? Exploring Local History Through Maps." Using familiar picture books about trains as a starting point, young students encounter the concept of primary sources in an age-appropriate way. And they begin to make foundational connections to geography, economics, civics, and history using primary sources. In this lesson, Kindergarten students will make a first exploration of the connections among resources in their community through early railroad maps–readily available online for every part of the country from the Library of Congress. This lesson addresses universal Kindergarten literacy standards, as well as several Massachusetts Social Studies standards and skills. Students learn to analyze the purpose, audience, and and information that can be read from a primary source, and gain habits of inquiry. The culminating assessment has students create and modify maps of their town, including elements: symbols, cardinal directions, labels, a key, etc. ********************************** EmergingAmerica.org History eNews welcomes YOUR news & events. Published Wednesdays; deadline Sunday noon. Archived at http://EmergingAmerica.org/blog. - Reply to rcairn@collaborative.org to be removed from this list. Register for CES events. Teacher-created lessons, primary source sets, & assessments at: http://EmergingAmerica.org. Follow Emerging America on Twitter and Facebook.