EMERGING AMERICA HISTORY eNEWS Vol. 5, Issue 8 for February 21, 2018
NEWS
New Lesson Plan from Emerging America – Immigration versus Nativism
Join the Massachusetts Council for the Social Studies – Access resources, networking opportunities
Follow U.S. Federal Budget for History Education Info
March 19 11am-1:30pm – Shrewsbury High School Room 02 – Social Studies Meeting
UMass Boston History Department seeks Lecturer in History/Director of Archives Info
Forums to Discuss Draft Social Studies Frameworks – Register through ESE:

March 5 – 4-6pm – CES, Northampton.
Southeast. March 9 – 2-3pm. MCSS Conf. Bridgewater State Univ.
Northeast. March 13. 4-5:30pm. Salem State Univ.
Boston. March 21. 3-4:30pm. ESE, Malden.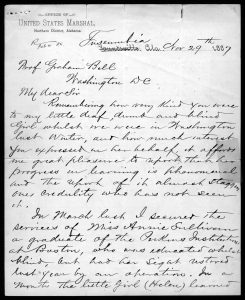 Letter from Arthur Keller to Alexander Graham Bell, November 29, 1887 https://www.loc.gov/item/magbell.12400202/
Available in Emerging America Primary Source Set, Disability History: What contributed to a growing understanding and awareness of people with disabilities?
Letter discusses Bell's interest in blind and deaf education, Helen Keller, and the Perkins Institute in Boston. Bell was an advocate for teaching speech to deaf children and later (1908) founded a school based on this principle.
Accessing Inquiry for Students with Disabilities through Primary Sources: Courses in Boston, Northampton, Westford, Mass; Danbury, CT; and Poughkeepsie, NY.
EVENTS @ EMERGING AMERICA – Info & Registration.
Contact rcairn@collaborative.org.
ACCESSING INQUIRY FOR ALL LEARNERS:
Hands-on workshop to learn and practical skills for teaching diverse learners.
Accessing Inquiry for Students with Disabilities through Primary Sources:
"Accessing Inquiry" courses meet Mass license renewal requirements for 15-hours PD on students with disabilities or 15-hours PD on English Learners. Optional 1 Westfield State University grad credit in History available.
March 23 & 24 – 8:45am – 3:45pm – Plymouth North High School – America and World Fascism: From the Spanish Civil War to Nuremberg and Beyond ($35). Registration.  
NEW RESOURCES AT THE LIBRARY OF CONGRESS
TPS Teachers Network – Teachers with experience working with primary sources are welcome to join this network.

Featured this week – YOU MUST LOG-IN FIRST FOR THESE LINKS TO WORK:

Congressional Data Challenge, $5,000 First Prize – Deadline: April 2, 2018
2018 Summer Teacher Institute – held at the Library of Congress in Washington, D.C.

Open Sessions (any subject area): June 18-June 22, June 25-June 29, and July 30-August 3
World War I Focus: July 9-July 13
Science, Technology, and Engineering Focus: July 16-20
Library of Congress Teacher Blog http://blogs.loc.gov/teachers/
"Civil war Images: Depictions of African Americans in the War Effort," a New Primary Source Set from the Library of Congress
Presidential Cartoons and Caricatures: Studying Perceptions of the Presidency
Guiding Student Investigation of a Miniature Flask for Insight into Maya Civilization
OTHER RECOMMENDED EVENTS – Across Massachusetts and the U.S
SUMMER 2018
Summer Institute at Mars Hill University
July 19-28 – Peru – Service Learning in Peru with EF Tours (Participant Paid) – Brochure
July 22-23 Boston – The Right Question Institute – Building Learning Communities – Info
July 28 – History Camp Pioneer Valley 2018 – Save the Date – Info
Other Resources:
**********************************
EmergingAmerica.org History eNews welcomes YOUR news & events. Published most Wednesdays; deadline Monday noon. Archived at http://EmergingAmerica.org/blog.
– Reply to rcairn@collaborative.org to be removed from this list.
Register for CES events.
Teacher-created lessons, primary source sets, & assessments at: http://EmergingAmerica.org.