EMERGING AMERICA HISTORY eNEWS Vol. 5, Issue 7 for February 14, 2018
NEWS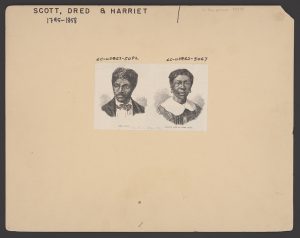 Dred Scott. 1887.
https://www.loc.gov/item/2014645331/
From "Teaching Difficult Subjects" blog post at Library of Congress.
Contact rcairn@collaborative.org. Why Should I Take a Course on America and World Fascism? Deepen your capacity to teach: extremism, controversial topics, how to deal with hate, 20th century ideologies. And of course, U.S. and world history.
March 23 & 24 - 8:45am - 3:45pm - Plymouth North High School - America and World Fascism: From the Spanish Civil War to Nuremberg and Beyond ($35).

Registration

.  
ACCESSING INQUIRY FOR ALL LEARNERS: Hands-on workshop to learn and practical skills for teaching diverse learners.
Accessing Inquiry for Students with Disabilities through Primary Sources:
"Accessing Inquiry" courses meet Mass license renewal requirements for 15-hours PD on students with disabilities or 15-hours PD on English Learners. Optional 1 Westfield State University grad credit in History available.
NEW RESOURCES AT THE LIBRARY OF CONGRESS
TPS Teachers Network - Teachers with experience working with primary sources are welcome to

join this network

.
Featured this week - YOU MUST LOG-IN FIRST FOR THESE LINKS TO WORK:
Library of Congress Teacher Blog http://blogs.loc.gov/teachers/
Memories of 1968 Mexico City Olympic Protest: John Carlos and Oral History
OTHER RECOMMENDED EVENTS - Across Massachusetts and the U.S
Other Resources:
********************************** EmergingAmerica.org History eNews welcomes YOUR news & events. Published most Wednesdays; deadline Monday noon. Archived at http://EmergingAmerica.org/blog. - Reply to rcairn@collaborative.org to be removed from this list. Register for CES events. Teacher-created lessons, primary source sets, & assessments at: http://EmergingAmerica.org. Follow Emerging America on Twitter and Facebook.