NEWS
Registration newly open for

spring courses at Emerging America

. Includes new section of Accessing Inquiry for Students with Disabilities through Primary Sources.

Rhode Island high school grad sues state for denying her Constitutional right to learn civics. See a

thoughtful post

from the California History and Social Science Project's Nancy McTygue.
New Blog Post from Emerging America:
Civility-in-Politics
http://emergingamerica.org/civility-in-politics/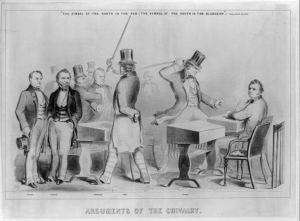 "A dramatic portrayal, clearly biased toward the northern point of view, of an incident in Congress which inflamed sectional passions in 1856. The artist recreates the May 22 attack and severe beating of Massachusetts senator Charles Sumner by Representative Preston S. Brooks of South Carolina. Brooks's actions were provoked by Sumner's insulting public remarks against his cousin, Senator Andrew Pickens Butler, and against Illinois senator Stephen A. Douglas, delivered in the Senate two days earlier. The print shows an enraged Brooks (right) standing over the seated Sumner in the Senate chamber, about to land on him a heavy blow of his cane." (Summary from Library of Congress.)
Contact rcairn@collaborative.org. HISTORY AND CIVICS EDUCATION COURSES REGISTRATION FULL - World Geography and History: Designing Grades 6-7. Gain content knowledge in World Geography and Ancient History. Unpack, examine, and align courses to new History and Social Science standards. Two-day course. Grad credit available. Register.
Jan. 29 and Feb. 5 - CES, Northampton.
Integrating Civic Engagement Projects Across the Curriculum. How will YOU meet the new Massachusetts requirement to offer civic engagement projects? Learn the basics. Generate and test fly a specific action plan. Taught by national service-learning and civic engagement leader, Rich Cairn. Two-day course. Grad credit available. Register.
Jan. 23 and March 13 - CES, Northampton.
NEWLY OPEN FOR REGISTRATION - Accessing Inquiry for Students with Disabilities through Primary Sources. Instructors Rich Cairn & Alison Noyes. Meets 15-hour Massachusetts requirement for high quality professional development on teaching students with disabilities and diverse learners. Grad credit available. Register.
Feb. 27 and March 6 - Northampton.
NEW RESOURCES AT THE LIBRARY OF CONGRESS
TPS Teachers Network - Teachers with experience working with primary sources are welcome to

join this network

.

Featured this week - YOU MUST LOGIN FIRST FOR THESE LINKS TO WORK:

Feature Discussions:
Library of Congress Teacher Blog http://blogs.loc.gov/teachers/
Pure Drugs and Primary Sources: An Opportunity for Close Reading and Analysis

Using Library of Congress Posters to Inspire Creativity
OTHER RECOMMENDED EVENTS
- Across Massachusetts and the U.S.
Other Resources:
Pioneer Valley History Network - Heritage Book Series (discount prices) -

Info

New Book:

Whips of Westfield, the Rise and Decline of An American Industry

-

Info
New Emerging America Blog:
Civility (in politics, the classroom, and public life) Civility, in politics, in the classroom, and in public life, has been the subject of renewed interest in the current political moment (even more than before – see the new preface to a previous post, with links to additional curricular resources). Rep. Preston Brooks' beating of Sen. Charles Sumner on the floor of the Senate is a vivid illustration of the inflamed passions that went further than we can imagine today in halls of Congress. (See image by Winslow Homer, "Arguments of the Chivalry," from the collections of the Library of Congress.) For a source of rich debate about contemporary conflicts steeped in primary sources and thoughtful analysis, and conducted always with exemplary civility, we recommend ongoing discussions on the Constitution Daily, the blog of the National Constitution Center in Philadelphia. The Center is a non-partisan, non-profit organization dedicated to education and debate about citizenship and of course, our own Federal Constitution. ********************************** EmergingAmerica.org History eNews welcomes YOUR news & events. Published Wednesdays; deadline Sunday noon. Archived at http://EmergingAmerica.org/blog. - Reply to rcairn@collaborative.org to be removed from this list. Register for CES events. Teacher-created lessons, primary source sets, & assessments at: http://EmergingAmerica.org. Follow Emerging America on Twitter and Facebook.