EMERGING AMERICA HISTORY eNEWS Vol. 8, Issue 17 for August 11, 2021
Updated August 19 with addition of Fall History's Mysteries Institute (begins October 4) and course name correction for Accessing Inquiry for English Learners (begins October 29).
IN THIS ISSUE
News
Events @ Emerging America 
New at the Library of Congress
Disability History Resources & Updates
Other Professional Development Events
Other Resources
New Accessible Lesson: Immigrant Stories: Why we came, and what we brought with us. Grade 2. Info on the Lesson
Emerging America Fall Courses (enrollment opens SOON!)
Develop a Mystery for Your Own Classroom: History's Mysteries Institute
Fully online. Five modules delving into the techniques that makes History's Mysteries students' favorite part of the school day.  Virtual sessions will be held on October 4 and December 6 from 4 - 5:15p ; Online office hours with the instructors will also be available. Registration Deadline: September 27. Learn more.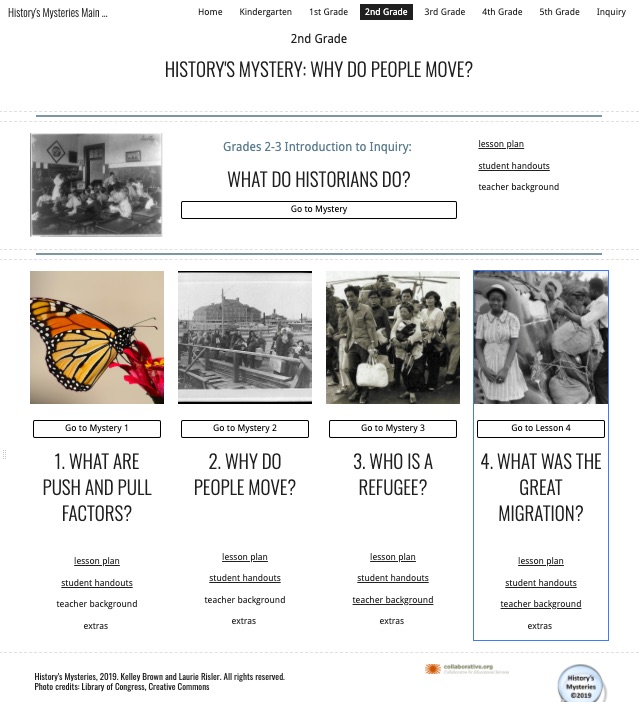 Teaching America's Diverse Classrooms
Accessing Inquiry for English Learners through Primary Sources  
Course begins October 29, 2021. Fully online. Learn more.
https://www.loc.gov/item/2021635612  Oxfam America's Migration and Protection Campaign leader Isra Chaker. By Kate Deciccio. Amplifier Art Machine for Social Change.
NEWS
Massachusetts Department of Elementary & Secondary Education (MA DESE) is offering a four-hour Civics Project Jumpstart workshop. Register for one of three dates: 

August 25, 9-11am 
September 13 and 15, 3-5pm (two sessions) 
September 28 and 30, 3-5pm (two sessions) 

Welcome Kathryn Gabriel to MA DESE in History and Civics! kathryn.r.gabriele@mass.gov
Mark your calendars for these Emerging America courses and workshops. Contact rcairn@collaborative.org.
HISTORY AND CIVICS EDUCATION COURSES
PDPs / OR optional grad credit available from Westfield State University.  
Online: Develop a Mystery for Your Own Classroom History's Mysteries Institute - Coming in October (register by September 27)

The creators of History's Mysteries will guide you through deep exploration of this powerful K-5 curriculum and its methods. Choose between customizing a unit for your unique classroom needs or creating a new History's Mysteries-style lesson on a vital topic.
Led by Laurie Risler, with Kelley Brown.
Grants 66.5 PDPs or optional 3 graduate credits from Westfield State University.
October 4 - December 6;  two synchronous sessions & online office hours. Learn more.
Accessing Inquiry for English Learners through Primary Sources: 

This popular course returns. Teachers in History, Civics, Social Science, ELA, & ESL gain strategies and tools to support in-depth, inquiry-based learning. Meets 15-hour Massachusetts teacher licensure renewal requirement on teaching English Learners. 
Led by Alison Noyes, Program Manager, Emerging America with Wendy Harris, master teacher
Available for 22.5 PDPs or optional 1 graduate credit from Westfield State University. 
October 29 - December 10
EMERGING AMERICA WEBINARS & CONFERENCES
See complete list of short webinars, poster presentations, and more. 
NEW RESOURCES AT THE LIBRARY OF CONGRESS
Library to Host Congress.gov Public Forum. September 2. Register here. 
TPS Teachers Network - Teachers with interest in working with primary sources are welcome to join this network. Featured this week - (log in to see DISCUSSIONS; no log-in needed for ALBUMS):
      You may link directly to these resources. 
Library of Congress Teacher Blog http://blogs.loc.gov/teachers/
Teaching about Women's Involvement in the History of Computer Science
Changing Historical Perspective with Mathematical Reasoning
Inspiring the E(ngineering) in STEM by Exploring the Construction of Pop-up Books (really cool! -A.Noyes)
DISABILITY HISTORY RESOURCES & UPDATES
EVENTS
​​​
OTHER RESOURCES
FEATURED ACCESSIBLE LESSON PLAN
Immigrant Stories: Why we came, and what we brought with us
In this 2nd grade, multi-day lesson on the experiences and contributions of immigrants to the United States, students explore the reasons why people have made life changes in moving to a new country, both earlier in history and recently. Using primary sources spanning a century, students generate questions and investigate answers. Students also interview adults in their lives or at school about their own stories. This lesson was developed by teacher Matt Howell for a second grade class, but could easily work for older students through grade 6. 
The lesson employs Universal Design for Learning and a range of strategies for accessibility, including a mix of primary sources, analysis tools, inquiry-based strategies, and interaction with adults. 
---
EmergingAmerica.org History eNews welcomes YOUR news & events. 
NEW publication schedule – Published monthly on Wednesdays; deadline the previous Wednesday. Archived at http://EmergingAmerica.org/blog. 
Email rcairn@collaborative.org to be removed from this list. 
Register for CES events.
Teacher-created lessons, primary source sets, assessments, & teaching strategies at: http://EmergingAmerica.org. 
Follow Emerging America on Twitter and Facebook.  
Content created and featured in partnership with the TPS program does not indicate an endorsement by the Library of Congress.