EMERGING AMERICA HISTORY eNEWS Vol. 5, Issue 17 for April 25, 2018
NEWS
Support production of history-making
BECOMING HELEN KELLER PBS film!
https://www.loc.gov/item/2002723166/
Miss Helen Keller reading Mrs. Coolidge's lips, c. Jan 12, 1925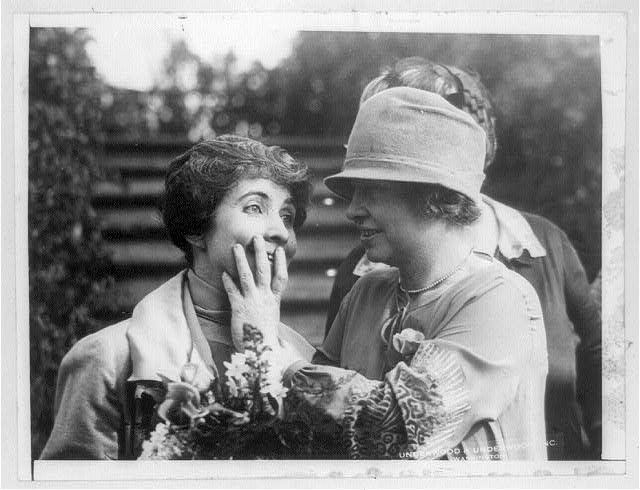 Because this film will play a vital role in advancing interest in and understanding of disability history, we are taking the highly unusual step of encouraging readers to review this Kickstarter campaign, watch the compelling film trailer, and consider making a contribution. Spread the word!
- Rich Cairn, Director, Emerging America
Accessing Inquiry for Students with Disabilities Register now for June 2018.
Contact rcairn@collaborative.org. ACCESSING INQUIRY FOR ALL LEARNERS: Hands-on workshop to learn and practical skills for teaching diverse learners. "Accessing Inquiry" courses meet Mass license renewal requirements for 15-hours PD on students with disabilities or 15-hours PD on English Learners. Optional 1 Westfield State University grad credit in History available.
Accessing Inquiry for Students with Disabilities through Primary Sources:

April 24 & May 15 - 8am - 4pm - Northampton ($72.50)

Registration

.

Accessing Inquiry for English Learners through Primary Sources:

April 26 & May 8 - 8am - 3pm - Danbury, CT ($89)

Registration

. (Click "Register for Courses".)
Mark your calendars:
NEW! June 26-27 - North Adams ($72.50) Free to teachers of North Adams Public Schools.

Register

NEW! June 28-29 - Springfield ($72.50) Free to teachers of Springfield Public Schools.

Register

NEW! July 18-20 - CES, Northampton -

Teaching Grades K-5 Civic Engagement and Social Studies. $250.

Register

.

NEW! July 30-31 - Boston Public Library - Immigration and Maps (Registration opens soon!)
NEW RESOURCES AT THE LIBRARY OF CONGRESS
TPS Teachers Network - Teachers with experience working with primary sources are welcome to

join this network

.

Featured this week - YOU MUST LOG-IN FIRST FOR THESE LINKS TO WORK:

Feature Discussions:
Library of Congress Teacher Blog http://blogs.loc.gov/teachers/
Primary Sources in Science Classrooms: Revisiting Favorite Posts

Poetry and Primary Sources
New at LoC.Gov!
OTHER RECOMMENDED EVENTS - Across Massachusetts and the U.S
April 28 - 9:30am-3:30pm - Deerfield Community Center - "Beyond the Veil: Disease, Death & Hopes of Redemption" -

Info and Registration

May 4 - 12:15pm - The Amherst Historical Society and Museum - Christopher Clark, "The Bran-Bread Philosopher" Sylvester Graham and the Science of Human Life -

Info

May 17 - 1pm (live stream) - Library of Congress - Veterans History Projects Hosts Panel Discussion of Effects of PTSD in Crime and Rehabilitation -

Info
Other Resources:
Summer 2018:
Summer Institute - DESE will host a three-day statewide

Civics Education Institute

for 250 educators July 24-26 in Marlborough.

Register

by school district

.

June 25-29 - Summer Institute at Mars Hill University - Musical Legacy of Appalachia: Using Ballads to Teach Poetry -

Registration

July 10 and 11, 9am-3pm - Maps as Primary Sources to Energize Math, Science, and other STEAM Curricula - Melrose High School, Boston, MA -

Info and Registration

July 18 and 19 - Teaching and Learning with the 4QM - Brookline, MA -

Info and Registration

"Four Question Method" is a pedagogical system that helps history teachers create units and lessons with clear purpose and focus, and helps students to learn both content and historical thinking skills.

July 24 and 25 - 9am-3pm - Increase Student Engagement within STEAM Education by Exploring the Power of Primary Sources - Peabody Essex Museum, Salem, MA -

Info and Registration

National Council for the Social Studies - Summer Professional Learning:
********************************** EmergingAmerica.org History eNews welcomes YOUR news & events. Published most Wednesdays; deadline Monday noon. Archived at http://EmergingAmerica.org/blog. - Reply to rcairn@collaborative.org to be removed from this list. Register for CES events. Teacher-created lessons, primary source sets, & assessments at: http://EmergingAmerica.org. Follow Emerging America on Twitter and Facebook.