Emerging America History eNEWS Vol. 4, Issue 32 for September 13, 2017
NEWS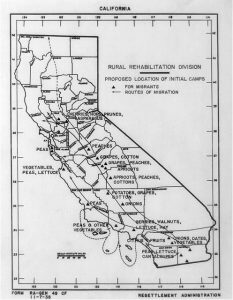 Map of California, Rural Rehabilitation Division (1935) Showing crops picked by migrant workers. Included in new lesson plan at http://EmergingAmerica.org on Immigration History and the Youth Novel Esperanza Rising.
EVENTS @ EMERGING AMERICA -
Info
How can I support ALL my students?
October 19 & Nov. 16 - Hudson High School - "Accessing Inquiry for Students with Disabilities through Primary Sources" - 22.5 PDPs or 1 grad credit in History.

REGISTER

.
"Accessing Inquiry" courses meet Mass license renewal requirements for 15-hours PD on students with disabilities or 15-hours PD on English Learners. Link to renewal regulations. Optional 1 Westfield State University grad credit in History available. How can I enhance the teaching of inquiry and use of primary sources in my district? SEEKING VETERAN TEACHER-LEADERS. Training of Trainers
Apply for Sept. 30 CES-TPS Training-of-Trainers (9:00-4:00 - Arlington). Trainees may receive stipends to conduct primary source-based professional development in their districts. Contact

rcairn@collaborative.org

for details and application–due September 15.
NEW RESOURCES AT THE LIBRARY OF CONGRESS
TPS Teachers Network - Teachers with experience working with primary sources are welcome to

join this network

. Create a password and profile, then explore resources, discuss issues, and enjoy!
Featured this week:
Introducing World History teacher, Matthew Poth as 2017-2018 Library of Congress Teacher in Residence

Poetry 180: Refreshing the Jukebox - Daily poetry.

International Literacy Day
OTHER RECOMMENDED EVENTS - Across Massachusetts and the U.S.
September 13 - 7pm - "Cornelia Hancock: Civil War Nurse" - Noble & Cooley Center for Historic Preservation - Granville, MA -

http://www.ncchp.org/

September 17 - 2pm -

David Ruggles Center

, Northampton - Comparing the Fugitive Slave Act of 1850 and Immigration Enforcement in 2017.

September 19 - 10am - 4pm - Observe Archeological Dig at

Historic Northampton

- talk on September 24

September 23 - 10am - 12:30pm - Population Education & Global Challenges. Boston Public Library

Leventhal Map Center

Oct. 20 - MCSS Conference - Holiday Inn & Suites-Marlborough - Registration opens 09/15/17!
Resources:
**********************************
EmergingAmerica.org History eNews welcomes YOUR news & events. Published most Wednesdays; deadline Monday noon. Archived at http://EmergingAmerica.org/blog.
- Reply to rcairn@collaborative.org to be removed from this list.
Register for CES events.
Teacher-created lessons, primary source sets, & assessments at: http://EmergingAmerica.org.