EMERGING AMERICA HISTORY eNEWS Vol. 4, Issue 41 for November 27, 2017
NEWS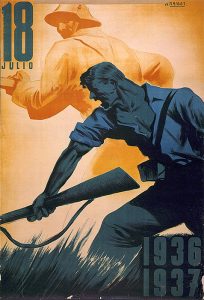 Turmoil in Catalonia - 1936.
Spanish Civil War poster from Library of Congress Visual Materials Relating to the Spanish Civil War.
https://www.loc.gov/rr/print/coll/spanish-civil-war-visual-materials.html
See March 23 Emerging America workshop announcement below.
EVENTS @ EMERGING AMERICA -
Info
Contact rcairn@collaborative.org. MARK YOUR CALENDARS! Registration & details soon. Grad credit in history available – all courses.
February 15 to March 29 with final follow up June 7 - ONLINE - Emerging America: Immigration Issues for Diverse Learners ($35)

March 23 & 24 - 8:45am - 3:45pm - Boston - America and World Fascism: From the Spanish Civil War to Nuremberg and Beyond ($35)

March 23 & March 31 - 9am - Boston Public Library Leventhal Map Center

Accessing Inquiry for Students with Disabilities through Primary Sources:

April 24 & May 15 - 8am - 4pm - Northampton ($72.50)

Dates TBD - Boston ($72.50 - free to Boston Public Schools teachers)
NEW RESOURCES AT THE LIBRARY OF CONGRESS
TPS Teachers Network - Teachers with experience working with primary sources are welcome to

join this network

.
Featured this week - YOU MUST LOG-IN FIRST FOR THESE LINKS TO WORK:
Other Resources from the Library of Congress:
Library of Congress Teacher Blog http://blogs.loc.gov/teachers/
Three new Civics games online. Supported by the Library of Congress!
OTHER RECOMMENDED EVENTS - Across Massachusetts and the U.S.
Nov. 29 - 4pm - UMass Amherst - Campus Center Rm 163C - "Dark Age of Herodotus: Shards of a Fugitive History in Medieval Europe" - Free - Scott Bruce

Dec. 3 - 2pm  Belchertown State School: Pictures and Words from Behind Bars - Ed Orzechowski -

Historic Northampton
Summer 2018 (With Stipends)
Resources:
********************************** EmergingAmerica.org History eNews welcomes YOUR news & events. Published most Wednesdays; deadline Monday noon. Archived at http://EmergingAmerica.org/blog. - Reply to rcairn@collaborative.org to be removed from this list. Register for CES events. Teacher-created lessons, primary source sets, & assessments at: http://EmergingAmerica.org. Follow Emerging America on Twitter and Facebook.