EMERGING AMERICA HISTORY eNEWS Vol. 4, Issue 39 for November 1, 2017
NEWS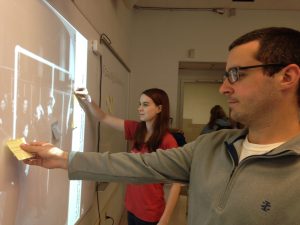 Westfield State University teacher education students in professor Nick Aieta's course place "thought bubbles" on a projection of an Ellis Island photo. Emerging America's Rich Cairn models techniques to make primary sources accessible to all learners.  
EVENTS @ EMERGING AMERICA -
Info
Can I book an Accessing Inquiry workshop in my district? YES! Contact rcairn@collaborative.org.
NEW RESOURCES AT THE LIBRARY OF CONGRESS
TPS Teachers Network - Teachers with experience working with primary sources are welcome to

join this network

.
Featured this week - YOU MUST LOG-IN FIRST FOR THESE LINKS TO WORK:
Other New Resources at the Library of Congress:
Perspectives on WWI - Responses to the Armistice.

Celebrating Halloween through "Danse Macabre."

Introducing Students to Primary Source Analysis.

A Different View of the Statue of Liberty.
OTHER RECOMMENDED EVENTS - Across Massachusetts and the U.S.
Resources:
********************************** EmergingAmerica.org History eNews welcomes YOUR news & events. Published most Wednesdays; deadline Monday noon. Archived at http://EmergingAmerica.org/blog. - Reply to rcairn@collaborative.org to be removed from this list. Register for CES events. Teacher-created lessons, primary source sets, & assessments at: http://EmergingAmerica.org. Follow Emerging America on Twitter and Facebook.