EMERGING AMERICA HISTORY eNEWS Vol. 5, Issue 13 for March 28, 2018
NEWS
S.2355,

An Act to Promote and Enhance Civic Engagement

passed the Massachusetts Senate last week The bill aims to ensure that all students in the Commonwealth have an effective civics education and graduate with the skills, knowledge, and dispositions necessary for effective civic participation. The bill would require that students study American History and Civics and complete at least two student-led civics projects before graduation. It would authorize funding and opportunities for teacher professional development and provide additional opportunities for youth civic engagement including the High School Voter Challenge and Edward M. Kennedy and Edward Brooke Civics Challenge.

Learn more

. Lobby Day at the State House to secure House passage is Tuesday 4/3.

Sign up here

.  

Congress passes FY2018 Budget with slight increases for National Endowment for Humanities ($3 million over FY2017)

Info

, Department of Education, and Institute of Museum and Library Services

Info

.

Give input to Standards for English Language Development - WIDA Survey -

Info
World War I and Disability
See blog post below.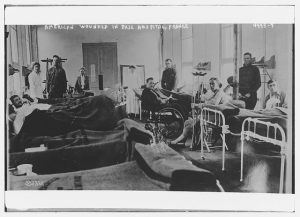 American wounded in base hospital, France. Photograph shows American soldiers with nurses in Ward 10, Base Hospital in Talence, France during World War I. Image available at: https://www.loc.gov/item/2014706378/
Accessing Inquiry for Students with Disabilities
Register now for Spring 2018.
Contact rcairn@collaborative.org. ACCESSING INQUIRY FOR ALL LEARNERS: Hands-on workshop to learn and practical skills for teaching diverse learners.
Accessing Inquiry for Students with Disabilities through Primary Sources:
"Accessing Inquiry" courses meet Mass license renewal requirements for 15-hours PD on students with disabilities or 15-hours PD on English Learners. Optional 1 Westfield State University grad credit in History available.
NEW RESOURCES AT THE LIBRARY OF CONGRESS
TPS Teachers Network - Teachers with experience working with primary sources are welcome to

join this network

.

Featured this week - YOU MUST LOG-IN FIRST FOR THESE LINKS TO WORK:

Feature Discussions:
The Library of Congress Wants to Hear From You! -

Survey on the vision of the LoC

Mathematics and Primary Sources: Historic Codes, Ciphers, and Computational Thinking, Part I -

Info
Other Resources:
This lesson invites students to wonder about what life was like for disabled WWI veterans. The lesson provides materials and instructions for guiding students in analysis of primary source materials that include a song about shell shock, a cartoon contrasting wounded veterans with rich profiteers, Red Cross posters, and a photograph highlighting life-changing war injuries. The teacher will provide background information and guide the class in a read-aloud from the perspective of a soldier wounded in Italy from Ernest Hemingway's "In Another Country." At the lesson's end, students can choose to dramatize the Bonus Army protest (group activity), write a 1-page diary entry as a disabled WWI veteran (individual), create a radio program interviewing veterans (with and without disabilities) highlighting the differences (group activity), or create Red Cross poster asking for donations to support disabled veterans (individual).  Download or access this and other lesson plans online. ********************************** EmergingAmerica.org History eNews welcomes YOUR news & events. Published most Wednesdays; deadline Monday noon. Archived at http://EmergingAmerica.org/blog. - Reply to rcairn@collaborative.org to be removed from this list. Register for CES events. Teacher-created lessons, primary source sets, & assessments at: http://EmergingAmerica.org. Follow Emerging America on Twitter and Facebook.